Past Event
Saturday, June 20, 2009, 2 p.m. to 4 p.m.
,
All ages / Free
Although many of the original Wakarusa River Valley communities are now permanently buried under Clinton Lake, they will soon benefit from a monument perched high in the sky.
"Freedom Rings," a sculptural composition designed by Lawrence artist Stephen Johnson, is set to be dedicated Saturday after two years in the making. The elaborate, large-scale piece rests on a piece of land adjacent to the Wakarusa River Valley Heritage Museum.
Johnson was saddled with the task of incorporating three disparate ideas into one work of art.
"There was a whole competition to create a piece of art around this destroyed windmill tower that was donated by (the late philanthropist) Tensie Oldfather," Johnson explains. "And it had to celebrate the 10 communities around Clinton Lake — some of which are underwater now. And it needed to celebrate the history of the Underground Railroad."
Johnson says he went with a "more abstract concept," which integrates symbolic hoops. Each circle represents the 10 Wakarusa River Valley communities: Bloomington, Clinton, Kanwaka, Lone Star, New Belvoir, Old Belvoir, Richland, Sigel, Stull and Twin Mound. The hoops are situated on the site in relation to how they appear topographically on a map.
"At the top of the structure we put a shiny sphere that acts as a beacon. It will shine from all the sunlight without creating a bunch of light pollution," he says.
Project parameters
• The piece had to tell the area's history.
• It had to include a 35-foot, 84-year-old frame of a windmill donated by the late Tensie Oldfather, a prolific Lawrence philanthropist.
• It had to reflect the idea of light, since candles and the North Star were among the symbols associated with the Underground Railroad.
The beacon represents the North Star, which runaway slaves would look to as their guiding light toward Northern freedom. One of the coded songs they often sang was "Follow the Drinking Gourd," a reference to the Big Dipper, which rotates around the North Star.
For "Freedom Rings," Johnson collaborated with Cotter Mitchell, a Vinland native who fabricated the 400-pound rings (in Liberty, Mo.) and repaired the 1930-forged windmill.
"I'm more like an architect at this point," says Johnson, who met Mitchell while a student at Kansas University. (They previously worked together on a piece for the Lawrence sesquicentennial called "Freeform," which is currently installed at Sixth and Massachusetts streets.)
"I come up with the ideas. Then Cotter does the real grinding and the manual stuff. It's with great pleasure that I can hire that out. I don't really want to pour cement."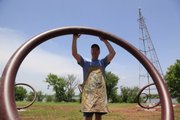 Underground heritage
"I think it's almost the work of a genius. Stephen has fulfilled any expectation of what I had," says Martha Parker, director of the Wakarusa museum.
Parker had admittedly high expectations. She was born in Bloomington and developed a lifelong connection to the area.
She says, "My parents were the first ones that had to sell to the (Army Corps of Engineers). We lived just west of the dam. So I saw it all happen. I saw the history and the culture go up in smoke back in '73."
Parker has catalogued much of the area's history, elements of which can be found at the museum. She's also been responsible for keeping its Civil War-era heritage alive through projects such as her book, "Angels of Freedom," which details how abolitionists settled on both sides of the river and fostered the Underground Railroad passage.
"Angels" clarifies how the concept was neither underground nor a railroad, "but was so called because its activities were conducted in secrecy and because railroad terms were used in the conduct of the system. It consisted of networks of 'stations' kept by 'conductors' or 'station keepers' who provided food, shelter and wagon transportation from one station to another along the line of travel to freedom."
"I grew up curious about the slaves that were buried in the Clinton cemetery, their history," she says. "In Bloomington, all my neighbors were black families — many descendants of slaves."
Parker's archive first opened in 1983. Now part of the Freedom's Frontier National Heritage Area, the museum is actively trying to raise $400,000 to build a new 5,000-square-foot facility.
"Many people live their whole life in Lawrence and have never been to Clinton," she says. "I can't begin to understand it. To me, it's the most beautiful place in the world."
Public eye
Artist Johnson understands that sentiment.
"The folks who live out there have a great sense of history and pride in the area," he says.
A Lawrence native, Johnson graduated KU in 1987, then relocated to New York for a 13-year stretch.
"I started out wanting to do album covers," he confesses.
While he delivered a few for CBS Masterworks that involved artists such as Louis Armstrong, he also immediately began netting other kinds of work. Three cover illustrations for Time magazine were among his early high-profile gigs.
In 1995 he released "Alphabet City," a children's book that featured his series of realist paintings. The effort received a New York Times Best Illustrated Book of the Year award.
He's now in his 21st year as a full-time artist.
"When I moved back to Lawrence, I started getting more into public art," he says.
His works are installed locally at places such as the Lied Center and the KU Law Library; nationally at the Dekalb Avenue Subway Station in Brooklyn, N.Y., and the Universal City Metro Station in Los Angeles.
"Freedom Rings" represents the 45-year-old artist's most expansive installation to date.
"He integrated the past with the present. It's aesthetically pleasing and joyful," says Elizabeth Hatchett, art coordinator of the project.
"I think it's the Eiffel Tower of the Midwest."