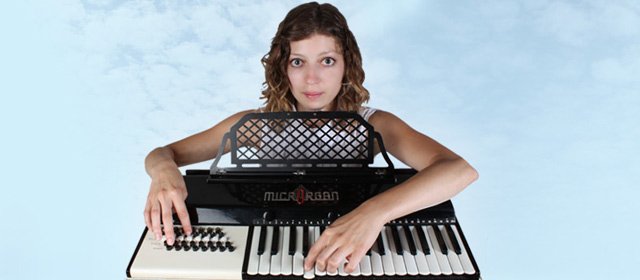 There's something enviable about Allison Olassa's folksy lifestyle.
She plays a sort of timeless music that's as free and loose as Gillian Welch, and she pays the bills by cleaning houses (with all-natural products, of course). She's also a connoisseur of auctions, which she frequents with an eye toward adding another instrument to her arsenal of accordion, guitar, and pump organ. Olassa's songs are made of the stuff that Walnut Valley Festival regulars adore: earthy melodies, slice-of-life lyrics, plucky instrumentation, and a voice that sticks to your soul. In addition to writing and performing solo, Olassa lends her talents to local acts Tiny Tuxedo and Old Country Death Band.
She'll be playing solo this Sunday on the Replay patio, where the outdoor air and family-friendly environment should provide the perfect backdrop for her expressive voice and humorous couplets about fake tattoos and airline stewardesses.
She joined us to play some new tunes and discuss music, life and her unrepentant desire to start a polka band.
No-fi highlights from the podcast
lawrence.com: Have you unearthed any treasures at auctions lately?
I actually got an accordion. It's about 80 years old, maybe more. It's not playable, though ... The one I perform with, my grandmother gave me.
How long have you been playing accordion?
Just since November. I've played piano for 12 years. I was classically trained, and I just quit taking lessons. I picked up the accordion pretty quickly, but it's still a difficult instrument to play. It's heavy and it pulls on your shoulders. At first I could barely get through a song, but now I can play a few.
Any ambition to start a polka side project?
Definitely. That's seriously a goal of mine. I love polka music. I love the way it sounds.
Do you have it in your blood? Is there polka ancestry?
No, but my grandmother played accordion, and she was really good.
I know you make your skrilla cleaning houses. You started your own business?
I moved to Lawrence in November of 2007 and just started posting my business on Craigslist. I eventually got one client and they knew some other people. It was just word of mouth. Now I have almost too much work, but it's good money. It's all-natural housekeeping.
Are you making your own cleaners from scratch?
I make a lot of my own products with essential oils. Lavender is one thing I use a lot of.
Who do you typically bring onstage with you?
I usually have a bass player. His name is Rob, a.k.a. Chicken Dinner. ... I just try to find anyone who can sit in with me. Sometimes we don't get but 20 minutes to practice before the show. I don't really have a set band, and I don't know if I ever will.
How long have you been playing music?
I think I wrote my first song when I was 13. … I think it was about some dude. (Now) I try not to write about dudes. A lot of musicians write about their lovers, and sometimes I think that can get old. There is a good way to put it, I think, but it's hard to capture.
What's the song "Airline Stewardess" about?
My friend Emily co-wrote that with me. She had just gotten rejected from graduate school, and my dog had just bitten the mailman and I had to go to court. ... We wished we could just go up into the sky in a plane and not have to worry about anything. I don't think I could actually be an airline stewardess — I'd be scared.
Where did you grow up?
In Wichita. We didn't live in the country, but we had a garden and we didn't waste anything. My parents grew up on farms, so they were still farm people living in the city.
You perform with a pump organ onstage — did you know there was a band in Lawrence called The Hardaways that used to bring a baby grand piano to all their gigs? Even downstairs in the Tap Room ...
Oh my gosh, that's what I want to do. ... I really want to start a program in Lawrence for the bars where I take a piano to each bar. You can't get the same sound with an electric keyboard. If anyone wants to help me ... I have a car and a trailer with a hitch, and there are tons of free pianos on Craigslist. It would just be a matter of the bars agreeing and getting them tuned.
If you were to make your dream record, what would that involve?
As many musical instruments as possible ... All of them — you name it.

Musicians featured on the podcast recordings include:
Allison Olassa - vocals, guitar, accordion
Jason Gordon - electric guitar and percussion
Rob Stewart a.k.a. "Chicken Dinner" - bass
Clinton Snyder - saw
Cainro - guitar and vocals on "Spies"
More like this story on Lawrence.com