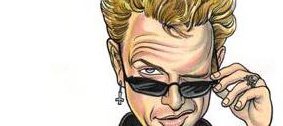 They say your entertainment preferences are forever shaped by the decade in which you went to high school.
Supposedly, your favorite movies, music and television shows all remain tied to that particular era.
I couldn't disagree more.
I spent my high school years in the 1980s, and for my money, it was the least interesting of the five decades I've experienced. The music and movies weren't anywhere near as memorable as either the '70s or the '90s. And as far as TV goes, there was no worse decade than the '80s. Quick, name five good sitcoms: Uh, "Cheers," and ... wait, even "Cheers" wasn't all that funny.
That said, there is one pop-culture landmark from the '80s that is indisputably better than the decades surrounding it: music videos.
It's hard to think of the word without conjuring images of bands and artists of that era. I'll bet the consensus top-10 videos of all time wouldn't even feature a song from the '90s or higher. (It's doubtful the '00s would crack the top 50, if not for that OK Go treadmill thingy.)
So it's no surprise that today's tech-savvy generation is setting its sights (and sites) on the teased hair and legwarmers era.
Chief among these recent revisionists is Literal Videos.
The site asks, "Ever wish songs just sang what was happening in the music video? Well, now they do."
Literal Videos combine these MTV flicks with new audio — courtesy of karaoke tracks and elaborately overdubbed vocals — in order to comedically match the on-screen storyline. So on Billy Idol's classic "White Wedding" video, he doesn't open with the verse "Hey little sister what have you done / Hey little sister who's the only one." Instead, he sings "Hey look at me I wrapped up my head" while he slowly removes the inexplicable giant scarf covering his face. As the camera moves past the Gothic set pieces, he murmurs, "Big candelabra, I am shirtless now."
Literal videos are the brainchild of Dustin McLean, a 29-year-old filmmaker/musician from Pasadena, Calif. McLean is an assistant director on the Current TV show "SuperNews," but his viral fame began via YouTube.
Last October, he notched nearly 2 million views with his posting of the 1985 hit "Take On Me" by Norwegian band a-ha. That video has obviously outlived the band, thanks to its then-innovative rotoscoping technique that made comic book characters leap from the pages into the real world.
(Best moment: When the Euro goons chase the hero, the vocals comment, "Oh, watch out for them / They're gonna beat you up with that pipe wrench.")
McLean has tackled other artists such as Tears for Fears and Red Hot Chili Peppers, but now YouTube is filling up with Literal Videos imitators. Some are quite funny (a version of "Total Eclipse of the Heart," for instance), though few are as consistent as McLean's work.
So what cultural signpost from our current decade will end up being lampooned in future YouTube tomfoolery? Reality TV? Twitter? Perez Hilton? My money is on anything involving "American Idol."
— Entertainment editor Jon Niccum explores facets of pop culture that have established a unique niche on the Internet in Net Worth. He can be reached at 832-7178.