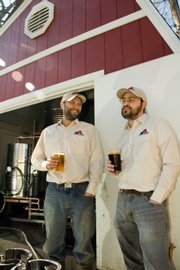 It's a Sunday afternoon. The weather's nice, the kids are out playing, the neighbors are in their yards, and the guys are working in the barn.
We're not on a farm and there are no chickens to feed. We're brewing beer.
For the past year, two guys who go by "Barnyard Brewing" have been holed up in a red barn in East Lawrence fine-tuning brews they hope locals will soon be enjoying.
"One of our neighbors came over once and said, 'Oh! So that's what you're doing back here. We thought you guys were making drugs,'" says brewer Heath Hoadley with a laugh.
Since then, Heath and his partner Mike Hummell have been hosting backyard parties and public tastings around town, gauging whether the beer they were making had a future as a company.
This month, they're making the transition from hobbyists to hopeful local microbrewers. They're moving into a larger space and expanding the size of their production. By spring, they hope to have their beer in a few bars and restaurants around town.
If all goes well, one day they'll be making a living from making beer.
"Imagine what it would have been like to be there when the Boulevard guys were just getting their start," Mike says. "It's exciting for us to be in the position we're in, and we're looking forward to bringing something really great to the Lawrence area." For having such ambitious goals, Heath and Mike are about as unassuming as two guys can be. Mike works days at the Wonder Bread plant in Lenexa; Heath works nights in the kitchen at Zig & Macs. Both guys are ready for a change.
Barnyard Beer tasting at The Pool Room


---
Heath has been immersed in brewing beer for a while now. He began in the mid-'90s, studying brewing at the Siebel Institute of Technology in Chicago. He later transferred to Doemens Academy in Munich.
"Our final project was to travel around Eastern Europe, visiting famous breweries, sampling their varieties and learning about mass production techniques," he says.
In 1998, he returned to the states and settled at a brewpub in Springfield, Oregon. He worked for three years as an assistant brewer at Spencer's Restaurant & Brewhouse, a small pub specializing in porters, ales, and traditional German varieties.
For the next 10 years, Heath worked stints at a number of West Coast breweries, learning the ropes of distribution and the finer details of brewing beer.
"The brewing business is a fast-paced one, and as Heath moved from brewery to brewery, he was moving up," Mike says. "One day, Heath just called me up from Washington and asked if I wanted to help him start a small brewpub or microbrew business."
That plan didn't come together immediately, but Heath's next move was closer to the Midwest. He landed a brewing position at the Power Plant Restaurant & Brewery in Parkville, Mo.
Past Event
Saturday, March 14, 2009, 6 p.m.
Eagles Lodge, 1803 W. Sixth St., Lawrence
21+
It was then that Heath started working on his own beer at home.
"By the time we started brewing at home, Heath's learning curve was almost non-existent," Mike says. "He had worked at six breweries by then, and had a real talent for working with the different grain varieties. He really understood their flavors and got quick results."
Though Mike never was much of a drinker, his friend's passion for beer won him over.
"Learning the process from Heath and working with the different grains has really opened my palette to beer drinking," Mike says. "I can honestly say now that the beers we're brewing are some of the best I've had."
---
Heath focused on crafting his own versions of the styles he brewed with the larger companies on the West Coast. He started with a golden ale and incorporated local grains, aiming for a particularly "Kansas" taste.
After the golden ale had been through several rounds of tweaking and was getting a positive response, the Barnyard guys thought the time was right to turn their home operation into a business.
They designed their own 55-gallon brewing system to fit the backyard barn, and with the help of an engineer friend, constructed an innovative system that allowed them to maximize their output from limited space.
Photo Gallery
Barnyard Brewing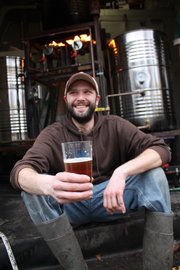 They ferment 25- and 45-gallon batches of brew in a large cooler and then store it in five-gallon kegs. These days, they're producing about 40 kegs a month; in the new facility, they expect to quadruple that.
At this point, the duo is focusing on five beers. To generate interest, they've been hosting tasting parties, such as a recent one at the Pool Room featuring the band Russian Discussion.
Says band member Ross Stewart: "There were about 150 people (there) and everyone was pretty impressed with their beers. Just in the time that I worked with them I thought their skills were improving. The way they're approaching their business model is smart—working with local bands and artists to build a small support group around them. I think if a lot of people could try these beers they would be excited about their brewery, too."
In the immediate future, Heath and Mike are working on getting their beers placed at as many local bars and restaurants as possible.
"I hope that in ten years people will know the Barnyard name and will associate it with good times, good music, and good friends," Mike says. "We really believe we've got something good happening here."
More like this story on Lawrence.com