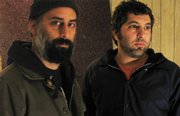 In a one-handed count of Lawrence bands whose last two records have each sold over 25,000 copies, you'd likely have fingers left over.
"Very few bands from this area have had the worldwide impact of The Appleseed Cast," says producer Ed Rose. "I get emails from all over the world asking about AC records. Kids in Europe are nuts for them."
Chris Crisci and Aaron Pillar formed The Appleseed Cast in North Carolina eleven years ago, moving to Lawrence in 1999. This week they release their eighth album, "Sagarmatha."

Like their previous releases, the latest is stratified music, effects-heavy and exuberant, opulent, and faintly anthemic. A song, for Crisci and Pillar, is a series of movements—vocals, if necessary, are just another instrument of evocation. Only one song on "Sagarmartha," the brief and shimmering "The Summer Before," follows the verse-chorus-verse format.

These two "musician's musicians" joined us to preview their latest release.
No-fi highlights from the podcast
Podcast episode
Tom King visits with the venerable Lawrence band to discuss its new album "Sagarmatha."
lawrence.com: Your producer, Ed Rose, said he's impressed with your willingness to combine old and new technologies. What did he mean by that?

Crisci: I don't know (laughs). What do you think, Aaron?

Pillar: Our willingness to use goofball drums, weird microphone set-ups...

Crisci: We were adamant about using tape, back in the day, when everything was being recorded on ProTools.
"Sagarmatha," it's the Nepalese name for Mount Everest.

Pillar: In Hindu, it's the "Mother of the Universe," and in Sanskrit it's the "Eye of the Mother," or "Eye of the Universe."

Crisci: We just converted so we're still getting used to the language (laughter).
Converted? To Hinduism?

Crisci: Not really (laughter).
How does the title relate to the new record?

Pillar: We were halfway through the song structure and we didn't have an album title … There was a book out called "Into Thin Air" by Jon Krakauer—I read the thing seven times while on tour [in Europe, 2001]. I got crazy about mountain climbing and I spun some ridiculous stories about how I was going to start climbing mountains. Chris and I have always chatted about how crazy the guys are that climb those kind of mountains. I thought the name could be a good allegory … It's a weird enough name that could mean a lot of things to a lot of people. We like to be a little ambiguous.
Your lyrics aren't necessarily in the "verse-chorus-verse" format.

Crisci: Not so much. We have a handful of songs out of 70 or 80 songs that are verse-chorus-verse … I think you have to strive to do that, to purposely do that, and I've never cared to do that. I get bored with it.

Pillar: I think we do it when it makes sense. From the second record, "Mare Vitalis," the thought has always been to put the vocals where there should be vocals, not where there's supposed to be vocals … Chris always has the last call on vocals because he has to sing them … They're usually done after the music—I think most bands don't do that. They usually have a vocal idea. We get too caught up in writing music.
Past Event
Saturday, March 7, 2009, 10 p.m.
Jackpot Music Hall, 943 Mass., Lawrence
18+ / $8 - $10
Where do you think popular music is going?

Crisci: Definitely stagnating. I don't know where it's going.
Are you taking it there?

Crisci: No (laughter). No one's going to listen to us. We have our small group of people that like us. It grows a little bit every year, but it's never going to be significant on a mass-market scale.

Pillar: I think right now it's the trend thing that's killing it. It seems like bands now just pick a genre, something 20 years ago, and say "OK, we'll get into that." ...Some bands are really good at it.

Crisci: Is the novelty of fashion rock wearing off yet? I remember when the Strokes came out and everyone was all about fashion rock.
The Strokes were called fashion rock?

Crisci: That's what I call them (laughter).
There are two other people in the room here: John Momberg of Kelpie and the Dactyls on drums, and Nate Whitman of Black Christmas on bass.

Momberg: For me, when I want to go see a rock band, I want to see a band—I don't really want to see computers that often. It's not that it's a bad thing, but I think that's what people think of as progressive: "OK, we're adding computers." Some of it's necessary because that's the way music is today, but I don't think computers are going to push music forward.
Album Mp3s

Sagarmatha

Pillar: People try and do the combo hip-hop-rock thing which usually fails but sometimes is kind of cool. I think it's in that infancy stage where experiments are failing … I don't know what it's going to be--when I hear it I'll know, and I'll be really happy about it.

Crisci: It's a new voice that usually changes things, a unique sound.

Pillar: Kurt Cobain. I wouldn't be in this room otherwise. That, and I bought a "Jawbreaker" CD for 99 cents. Because of those two things, I thought it was cool to play guitar.

Crisci: He could sing like hell.
Are you now supporting yourselves as musicians?

Pillar: Chris ekes it out because of the mixing thing. I'm working a day job. I prefer where we're at right now, which is like a really great part-time job. If I can take a tour like this three times a year and work my other job, then I've had a good year … To be able to do art all day, every day—that would be really great.
How much time do you spend on the road?

Pillar: In 2006 we did eight months of touring. Now we break it up: three weeks on tour, a month off, then a month back out...

Crisci: The years that we spent at least six months on the road, we've been so burnt out at the end of it. There were a lot of times when it wasn't even enjoyable. There are so many better ways to make money if it's just about a paycheck. So you have to enjoy it, you have to break it up to keep it fresh.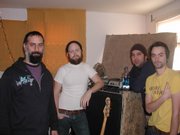 You can't force inspiration.

Pillar: We had a discussion about this the other day, that if it became solely about money and not about playing music every night, then I can't do it. If it gets to the point where you're counting heads in the audience, that's so shitty. I want to feel like that doesn't matter.