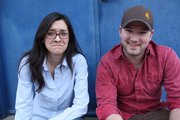 Unless you really hated your job, most folks wouldn't immediately think of getting sacked as a gateway to opportunity.
Jacinta Langford and Jesse Sevier, however, decided to latch onto the upside of getting downsized. After getting pink slips a few weeks ago from the firm where they worked together, Langford and Sevier decided not to give into depression in the face of Depression. In this economy, optimism is a commodity just as cherished and scarce as solvent banks. With a "Why the hell not?" mentality they've decided to forge out on their own and are launching LangfordSevier, a marketing business with an emphasis on Web 2.0.
The titular Langford and Sevier joined us to discuss swimming upstream in an economic tsunami.
lawrence.com: Did you sense that the layoffs were coming, or did the guillotine drop without warning?
Jesse: We knew the company was in trouble, but we didn't know we would be laid off as soon as we were. We thought our jobs were safer than they actually were. That's just the way it goes.
Jacinta: I think we saw it coming, we just didn't know when it was going to happen. It was so soon—and still cold out! They could have at least waited until the weather warmed up.
Describe the moment when you actually got the pink slip.
Jesse: I was brought in and told, "Things are slow." I went, "Uh oh—they're going to let Jacinta go." Then he said, "We're going to have to let you go." I was shocked. Then he asked me about all of these duties I performed, and I went, "Don't worry about it, Jacinta has it covered." Then he said, "Well, Jacinta is going to have to go as well." They called her in right after me. I didn't even have a chance to tell her.
Jacinta: They knew we probably needed a drink. They offered to let us off for the rest of the day and go get a beer if we would come back the next day to tie up loose ends—which we did. It wasn't exactly the easiest thing to do. Well, the beer was easy—it was the coming back the next day that was hard. There were no hard feelings, though. We immediately looked to the bright side of the situation.
As one of its many casualties, how bad does the economy look from the frontlines?
Jesse: I'm not going to be super negative. I know it's bad, but people are still willing to spend money. It's not sell-your-car-and-ride-a-mule-to-work yet. Although there's this great quote—"A recession is when people you know are laid off. A depression is when you get laid off."
Jacinta: I don't know. I go back and forth. Sometimes I don't think it's that bad, but then I hear about a company letting go of thousands more people. Then I think about Wal-Mart opening up and how that's going to make 238 new jobs in Lawrence—is that good or bad?
Did you have any time for binge drinking and sitting around in sweat pants while wallowing in despair, or did you jump right into the new venture?
Jesse: Well, the binge drinking was a given no matter the situation. We actually had this idea of starting our own business for a while. This was a really simple transition for us to make.
Jacinta: We had been moonlighting on it, but didn't have enough time to devote to it while we had the previous job. Now we do.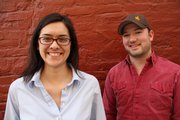 What the hell is it you guys do exactly?
Jesse: Our specialty at LangfordSevier is online marketing.
Jacinta: We can do the traditional stuff, but a lot of the need is for online—especially through social media and e-mail.
How does a company make money on Facebook and Twitter in a way that doesn't involve porn?
Jacinta: When it comes to Facebook and Twitter, it's not really about selling a product, it's more about just engaging these customers on their level. They're already there, online and talking about your business. It's a customer service tool in a lot of ways. It may seem a little Big Brother-ish to respond directly to someone who mentions your business online, but you're helping them out with a problem and in the long run they'll appreciate it. It's just a way to network, really.
Jesse: It's a ground level conversation where you can be a little more proactive and establish an identity with these users. "Wow, they're into the same thing that I'm into." It's a way to bring "Evil Corporate America" down to an end-user thing where you have something in common with them. People are very cynical about businesses these days.
How might Facebook and Twitter, which are commonly used to destroy productivity, ironically save our economy?
Jesse: In a downturn like this, a lot of people are cutting marketing budgets. Traditional marketing—like radio, TV and print—isn't as cost effective as online marketing. It's cheap and allows you to interact with a different kind of customer. The internet has now become a staple of everyday life. People may cut back on cable or Netflix in this economy, but not internet access. It's not really a luxury like it was in the past—it's more of a mainstream channel.
Jacinta: Speaking of, I think it's awesome how Obama and his campaign hit it out of the park by using the internet. We're thinking about moving into online political marketing.
What are some of the benefits of self employment?
Jacinta: Every Monday at about 10:30, Jesse and I meet at Milton's to start off our week with breakfast. That's one of the coolest things. We're not in a cube anymore.
Jesse: I've got a laptop and a messenger bag. I can ride my bike to Free State, sit on the patio, knock out a decent amount of work, and drink beer. It's wonderful. I'm able to do what I want wearing flip-flops in the backyard. Flexibility and freedom. It's my image of what a virtual office would be like 10 years ago.
Jacinta: He's like Nostradamus. Another benefit is we're not working for anyone else and don't have to worry about the person above us. That's probably the biggest thing.
Any advice for people who have been laid off?
Jacinta: You mean besides collect unemployment? So far as entrepreneurs, it's all about sticking with what you know. If you've ever dreamed of doing it, take this layoff as an opportunity and go with it.
Jesse: It's difficult and not for everyone. There are crappy parts about being an entrepreneur, too. Our insurance isn't paid for right now. We don't get company matched 401ks. We're not making a ton of money right now—but the potential is there.
More like this story on Lawrence.com