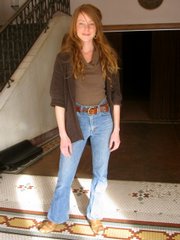 Name: Ariele Erwine
Age: 29
Sign: Scorpio
Hometown: Atwood, KS
Time in Lawrence: 9 years
Occupation: Personal Assistant and housecleaning lady.
What were you doing when scouted? Looking at images of French vampires on the internet.
Favorite places? The Casbah Market, Blackbird Trading Post, Love Garden, and the Dusty Bookshelf.
How would you describe your style? Midwest mystic cowgirl.
Where do you get your hair cut? I either go to Andiy at Static or Julie at the Darling Room in Kansas City.
Favorite trends? I love boots for girls, v-necks, cardigans, and high-waisted pants. I always try and wear things that are snuggly and comfortable.
Least favorite trends? Boys that don't pay attention to how their jeans fit.
Favorite coffee shop? I like La Prima Tazza and Henry's, because I'm buddies with all of the lovely baristas.
Favorite bar? I like the Taproom for the DJs, the overall vibe of the basement, the capiz shell lantern, and for Prashant and Nick Ray.
What would you like to see more of in Lawrence? I'd like to see more outdoor seating, more beautiful chalk artwork/advertising for businesses downtown, and more art happenings.
What would you like to see less of? Nothing, because I like Lawrence the way it is.
Who are your fashion influences? Old Brigette Bardot, Mick Jagger, Linda McCartney, and Mucha.
People say I look like: Sissy Spacek.
What's in your purse? My laptop, a scone, and "The Spell of the Sensuous" by David Abram.
Tell us a secret: My secret to a good life is to be outdoors at least 30 minutes each day.
PRICE OF CLOTHING: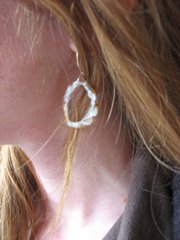 Boots: Purchased by an ex-boyfriend, about 6 years ago.
Jeans: Levis, purchased at Wildman Vintage about 4 months ago for $15.
Belt: I have no clue, it's probably not even my belt.
Shirt: Magic Carpet Traveler, purchased 3 months ago for $30.
Sweater: The Gap sale rack, purchased for $9.99 a few years ago.
Earrings: Early Jewelry, a gift.