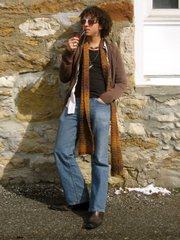 Name: Matt Gifford
Age: 21
Sign: Cancer
Hometown: Ottawa, KS
Time in Lawrence: 4 years
Occupation: Dusty Bookshelf, Waxman Candles, Metalsmithing student at KU.
What were you doing when scouted? Getting in a car wreck.
Favorite places? Wild Man Vintage, Dusty Bookshelf, Encore, La Parilla, and Love Garden.
How would you describe your style? Earth-tone working man.
Where do you get your hair cut? I don't, but it does require constant self-pruning.
Favorite trends? Pipes, 1940s style hats, scarves, male jewelry, and I really want to see more people wearing ascots.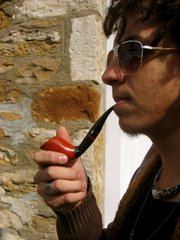 Least favorite trends? Leg warmers, oversized Grandma sweaters, deep v-neck t-shirts.
Favorite coffee shop? I like Henry's because my friends all go there, and I know and love the staff, but I also like going to Mirth because the food is delicious.
Favorite bar? I like going to the Tap Room to go dancing, and I like going to Harbour Lights for the beautiful smoking porch.
What would you like to see more of in Lawrence? I'd like to see more graffiti and street art, cute puppies, more use of The Skip-It, and a roller-skating rink.
What would you like to see less of? Droves of middle schoolers and people illegally parking their cars on Mass. St.
Who are your fashion influences? Q-Tip, James Brown, and my Dad.
People say I look like: Lenny Kravitz, and unfortunately the guy from High School Musical, Justin Guarini from American Idol, Rudy from the Cosby Show, and the kid from The Boondocks.
Tell us a secret: My idea of a perfect date is making dinner and, afterwards, building a fort in the living room.
PRICE OF CLOTHING:
Shoes: Steve Madden, bought online from Zappos.com for $94, 1 week ago.
Pants: Sears, purchased 3-4 years ago for $40.
Belt: My dad's old belt; the buckle was bought online for about $10.
Shirt: Wildman Vintage, purchased 2 months ago for $12.
Undershirt: Hanes, purchased at Target for about $5.
Necklaces: One of them was made by Robert Goetsch, the other I borrowed from my best friend.
Rings: One of them was made by me, the other was made by my Grandfather.
Arm band: Purchased at the Crocs tent at Wakarusa last year.
Pipe: Churchill's Pipe Shop in Topkeka, purchased 4 months ago for $75.