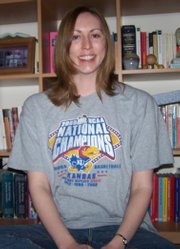 Dana Bottenfield, editor, enjoys running, yoga, reading, and dusting her Jayhawk shrine

For Lawrencians, March is a sacred and hallowed month. It brings us that most revered of observances, that holiest of calendar events—yes, that's right, I speak of March Mustard Madness at Free State. Oh, and something involving basketball is happening around the same time. What do you know of this balling-of-baskets nuisance which interrupts my mustard victuals?
"As I was born and raised a loyal Jayhawk, I know that March Madness comes but once a year—and much like the holiday season, it involves time off work, a gathering of family and friends, gluttony, celebration, and angst."
Is March Madness recognized by the Centers of Disease Control? What symptoms should we be on the lookout for and how do we treat it? Is it similar to mad cow?
"I would equate March Madness with the symptoms of bi-polar disorder—ecstatic, erratic, moody, reckless, irrational behavior."


Predictions on how well KU is going to do? Be honest, now...
"I have been amazed at the progression of our team this year. The team on the court today is a much better and confident team than the one we saw in October. I think the door is open for KU to do great things in this tournament."


What strategy do you recommend for filling out brackets? Blind faith and denial? Computer algorithms? Getting trapped in a nuclear experiment that atomizes your being, reassembling your molecules into a blue demi-God with glowing genitals, and allows you to predict the future?
"I use spite. Always place the teams that you can't stand in a position to lose at the most embarrassing or gut-wrenching part of the tournament. For example, KU/NC last year. You get the picture."
Superstitions or rituals your OCD can't allow you to ignore come game time? Favorite game day drink?

"
If I could, I would pour myself a tall Boulevard Wheat, but because I'm in Chicago right now, I have to settle for whatever wheat beer is available. It helps strengthen my arms when I'm the only person waving the wheat in a room full of Illini fans."

Did you know that Morningstar in Latin is "Lucifer"? Is it just a coincidence that we have a Brady Morningstar on our team? Would having Satan on our team guarantee victory for the Jayhawks?
"I think having Morningstar on our team, Lucifer or not, is a good step forward."