Podcast episode
Mayor Mike Dever and Simran Sethi chat up the Climate Protection Task Force and how Lawrence can kick ass in the green economy.
While the Climate Protection Task Force may not kick as much ass as Chuck Norris' similarly named Delta Force—for nothing can kick that much ass—they are just as deadly serious.
This collection of community leaders formed last year with the goal of turning Lawrence into the state's shining example of how to live sustainably. Mayor Mike Dever, along with Climate Protection Task Force (CPTF) member and enviro-warrior Simran Sethi, joined us to discuss the link between sustainability and civic pride.
lawrence.com: Why is the CPTF needed? Especially in this economic climate when a lot of people are skeptical that Lawrence has the budget to even make the toilets flush, let alone implement sweeping environmental policies?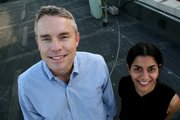 Dever: The way I try to justify any new costs associated with this type of program is to tie greenhouse gas emission reduction to the reduction in the use of fossil fuels. My belief is that if you reduce energy consumption, either through improved mileage on cars or making buildings more energy efficient, there's an immediate payback. It's not about spending more money, it's about capturing funds that are going out the window or through the roof or up the chimney. We are saving dollars and implementing strategies that will ultimately help the city.
Is it easier to sell these proposals when you tie them together with financial savings? Never mind that we're destroying God's green earth for future generations and the horrible moral quandary that presents—will it put money in our coffers right now?
Sethi: In part. There's been a perception that if you're for environmental initiatives, you're somehow against economic growth. In this day and age, we recognize those things can go hand in hand. We recognize that we're under tremendous financial constraints. This plan wasn't designed in a vacuum. It was designed in a way that will not only conserve natural resources, but financial ones.
How will reshaping Lawrence as a green community attract business and help stimulate the local economy?
Dever: When you build a city that is focused on trying to do its best for the environment, you attract businesses that are like minded. Some people call them "green-collar jobs," I like to call them "socially conscious and responsible corporations that want to do what's best for the environment and their employees." That's a bit of a mouthful, though. Wouldn't you rather be in a community where, if you're trying to do the right thing as a business, you're surrounded by people who are like minded? The first step is walking the walk by adopting this plan.
Sethi: In addition, President Obama's stimulus package included funding for environmental initiatives ranging from energy conservation to creating green-collar jobs. The CPTF proposals are eligible for these funds. We have a real opportunity to take a leadership role in the state of Kansas. We're well poised to capitalize on the gains of this growing movement.
Civic pride seems to be a major component in this plan, insofar as becoming an environmental leader for Kansas. Are you hoping to create something similar to a sports rivalry? "We cut our carbon emissions 6% this year, Manhattan! Suck it, Wildcats!"
Dever: I think we need someone in an oversight role to do just that. In other words, outreach to the community focused on how we're going to do better as a city, count them up and tout them. Then we can get a buy in from the consumer and say, "Look how much money we saved. Look at what we were able to do." I don't know if they'll say "suck it," but they'll definitely say, "Look at what we're doing in Lawrence. Why don't you do the same?"
Since increased public transportation is an aspect of the plan, if these proposals are adopted by the City Commission, is the future of the "T" now secure? May it even expand?
Dever: This is the most solid future the "T" has ever had. The new ballot initiative collects funds for it over the next 10 years. There are funds now for newer, greener buses. I'm leaning towards compressed natural gas. We're going to run routes more often, which will make the "T" more viable and valuable to people. I think the public transportation system can be a focal point for this effort.
What can the people of Lawrence do to help implement these proposals?
Sethi: They can join us on the 31st of March for the City Commission meeting where we'll be presenting the plan. I encourage people to take a look at the plan online—the summary is only 2 pages long. We want to create a great environmental legacy for the city.
Finally, and most importantly, should the city change the name of Missouri St. just to spite the state of Missouri? To tie it in with the CPTF, maybe rename it "Al Gore Blvd"?
Dever: That's a hot issue. I've received 50 emails in last few days, where 25 were for it and 25 were against it. Clearly the issue has triggered an emotional response.