Name: Cody Henry
Age: 21
Sign: Capricorn
Hometown: Lawrence
Time in Lawrence: On and off for 16 years
Occupation: Delivery driver
What were you doing when scouted? Recovering from a friend's bachelor party.
Favorite places? Love Garden, Dempsey's, The Bourgeois Pig, Wild Man Vintage, and Clinton Lake.
How would you describe your style? I would describe my style as classic, and I usually wear what's comfortable and what I feel good in.
 Where do you get your hair cut? My bathroom, but sometimes my friend Steven Thompson cuts it.
Favorite trends? I have recently developed an affinity for the '90s grunge style. I also like biker jackets, cuffed jeans, pompadours, white v-necks, and Converse.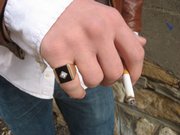 Least favorite? I dislike the contrived hippie look—it comes across as very disingenuous.
Favorite coffee shop? I like the Pig because they make the best drinks, and the service is good.
Favorite bar? I like going to the 8th St. Taproom to play pool.
What would you like to see more of in Lawrence? Homeless shelters and more music venues for bigger acts.
What would you like to see less of? Speed traps. I think they're a misallocation of law enforcement resources, especially late at night.
Who are your fashion influences? James Dean, Jack Kerouac, and basically the real classic looks of the 1950s-70s.
People say I look like: A homeless dude once said I look like Brad Pitt. I also look like my cat Tigger.
Tell us a secret: I once ran into a building and destroyed a brand new $225 suit.
PRICE OF CLOTHING: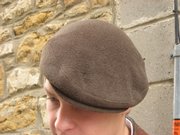 Shoes: Steve Madden, purchased 3 years ago, for $30
Jeans: Levis 511s, purchased 1 1/2 years ago for $40
Shirt: Levis, purchased 2 years ago for $40
Jacket: Wild Man Vintage, purchased 3 months ago for $30
Ring: 1940s cocktail ring, my mom gave it to me
Hat: UBI, purchased at a Kiosk in California, 3 1/2 years ago, $30
More like this story on Lawrence.com