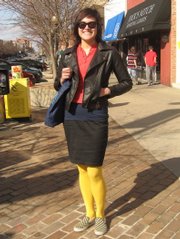 Name: Gina Pomponio
Age: 26
Sign: Capricorn
Hometown: Detroit
Time in Lawrence: 6 years
Occupation: Retail
What were you doing when scouted? I was on my break from work, trying to find some sunshine.
Favorite places? Local Burger, Wild Man Vintage, and The Merc. I go to the Merc every single day.
How would you describe your style? My style is usually menswear-influenced, but I try and dress comfy and fun.
Where do you get your hair cut? I cut it myself.
Favorite trends? High-waisted pants, baggy shirts, and I think early '90s stuff is really fun right now.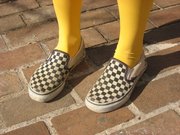 Least favorite trends? Berets, and pants with words written on the butt.
Favorite coffee shop? I don't really drink coffee anymore, but I like going to La Prima Tazza because they have a nice selection of teas.
Favorite bar? The Replay, definitely. I live so close to it, I'm there all the time.
What would you like to see more of in Lawrence? I'd like to see more vegan restaurants and more local stores downtown.
What would you like to see less of? Less corporate places moving into downtown, but otherwise I think Lawrence is pretty great as it is.
Who are your fashion influences? I like Diane Keaton's style. I also like Agyness Deyn and Sophia Loren.
People say I look like: Shannyn Sossamon.
What's in your purse? Self-brewed Yerba Mate tea, a planner because I'm helpless without one, and Mucinex because I'm getting over a cough.
Tell us a secret: I like to drive and get lost on purpose, and then try and find my way back home.
PRICE OF CLOTHNG: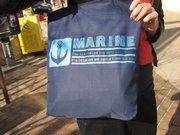 Shoes: Vans, purchased at ATC a few months ago for $12
Tights: Urban Outfitters, purchased a few months ago for $12
Skirt: Urban Outfitters, purchased on sale for $19.99, last Friday
Shirt: Revue in Kansas City, 2 years ago for $20
Glasses: I got them in a random lost and found.
Jacket: Urban Outfitters, purchased 1 year ago for $80
Purse: ATC, purchased a few months go for $7
More like this story on Lawrence.com