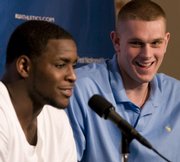 Kansas received a No. 3 seed in the Midwest Region of the NCAA Men's Basketball Tournament, which puts the Jayhawks in Minneapolis for its first game against N.D. State (26-6). The game is at 11:30 Friday on CBS (Sunflower channel 5). KU was likely bumped from a No. 2 seed—which would have played in Kansas City—after they lost their first game in the Big 12 Tournament to unranked Baylor. If KU wins Friday, they'll play the winner of a first-round matchup between West Virginia and Dayton at either 1:30 or 4 p.m. Sunday. Fill out your bracket here.*...Some of the more reliable methods of filling out your bracket include:
-To ensure a better seed for KU, enlist Scott Bakula to quantum leap back in time and prevent the birth of Baylor's LaceDarius Dunn.
-Have CNBC financial analyst Jim Cramer fill out a bracket, then pick the exact opposite.
-Dig up a time capsule containing a mysterious sheet of numbers that can predict the future, use it to fill out your bracket, also heed its warnings about impending disasters such as Nicholas Cage's next movie.
-Take Dick Vitale out for drinks and roof his cocktail, stage compromising photos of him doing freaky shit with Marv Albert, blackmail him into filling out your bracket.
-Consult L. Ron Hubbard's omniscient ascot stored deep within Tom Cruise's mountain lair.
-Peyote.
*...based on actual news
More like this story on Lawrence.com