Love it or hate it—if you even know what in tarnation this whole social media gobbeldy flammery is—Twitter is here to stay.
Well, it's here to stay until people get tired of it and move on to the next online trend, anyway.
Twitter is the so-called "microblogging" service famous for limiting your thought droppings to 140 characters—so much so that it's giving Google a run for the money as the latest website that's both a proper noun and an annoying verb.
Whatever else it is, it's currently the third largest social networking forum, behind Facebook and Myspace, with roughly 6 million users. A few of those 6 million are taking the digital phenomenon back offline and organizing—annoying noun alert—"Tweetups" around the country. One of these analog get-togethers is happening here in Lawrence, and we've asked the most dedicated of these Twitter-bugs to comment on this basic need for human interaction and its manifestation in occasionally obnoxious technology—via that occasionally obnoxious technology, of course.
Past Event
Tuesday, March 24, 2009, 6 p.m. to 10 p.m.
Sandbar, 17 E. Eighth St., Lawrence
All ages / Free
lawrence.com: How would you describe Twitter to the uninitiated? Bonus points for a haiku or dirty limerick. Oh, and I dare you to say "microblog."
jeffisageek: Twitter is giving users a way to communicate with people in a more personal and even professional way that was not possible until now, sharing your thoughts, experiences, ideas to your friends.
mcompton: My fav explanation of Twitter came from garyvee : "Twitter is a conference and following someone is a handshake."
bhgoodell: Try it first, don't hate. Great social utility. Cooler than you think.
What do you use it for? Networking? Staying in touch? Keeping the world abreast of breaking news regarding "Battlestar Galactica"?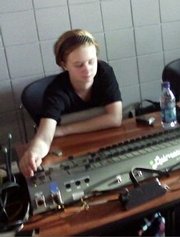 mcompton: I use Twitter for all of the above. Including following people who discuss issues/concepts that I want to learn more about.
jacquelineann: I use Twitter for networking and following trends. You can see breaking news and follow bloggers you find interesting. d lcom hi!
faryle: Honestly, I use it for "stalking" people in industries that I'm interested in. I wish I could say I was breaking some scandalous news :)
Is Twitter an inexorable step towards the Singularity, when man and machine merge? Or is it just the ultimate time suck?
bhgoodell: It has that feel, doesn't it? I think it's only a time-waster if you contribute nothing of value. "I'm washing my car." Well, so what?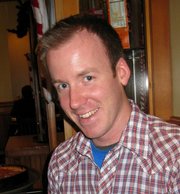 jacquelineann: The ultimate time suck :) Really it is a great tool to network so I don't think human and machine will merge. Really it's about meeting the people you follow and getting to know them.
Do you follow any celebrities on Twitter? If so, who's your favorite, and what was the most asinine thing they ever posted?
jeffisageek: I follow geek celebrities like Wil Wheaton, Leo Laporte, Darth Vader, and Cobra Commander. What can I say? I am a geek.
mcompton: I actually don't follow many celebs on Twitter. Although I do miss following the Green M&M;.
jacquelineann: Perez Hilton keeps me up to date on all celebs. Today he posted a photo of Zach Braff smoking a joint. I guess that is asinine. I follow Britney to track her current tour because I can't wait to see the show.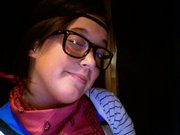 faryle: Ashton Kutcher likes to stir the pot by posting things that get him in trouble with the media. His tweets always make things interesting.
bhgoodell: It's trite, but Shaquille O'Neal is the Cadillac of Tweeting celebs:"Gave a way anova game, geez im pissed agggggggggh dats a yell."
What's the most asinine thing YOU ever posted on Twitter?
jacquelineann: Sometimes I just tweet random things, like yesterday I was craving chocolate cake, and tweeted 'I want cake.'
faryle: I type faster than I think so more often than not I tweet something, hit enter and realize I've misspelled things. I'm boring that way.
bhgoodell: Probably something dumb about sports:"Why does Lebron James look like he's on loan from Gryffindor? #NBAAllStarWeekend" Hilarious, dummy.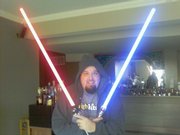 jeffisageek: Some of the crazy things I post up on Twitter would be pics of me shaving or maybe what I'm eating. I think there have been too many to list.
Tweetups...is that when a bird pukes? What is this strange and potentially sticky phenomenon?
mcompton: Tweetups are a meeting of Tweeps who want to talk outside the confines of
140 characters
faryle: Tweetups equal social media enthusiasts getting together with others that understand the need to explain their life in 140 characters.
jacquelineann: Tweetups are getting to know the local tweeps (Lawrence twitter users). I think this is going to be big, it makes the networking real.
bhgoodell: Tweetups are relaxed, real-life networking opps that *gasp* don't take place in your mom's basement. It's nice to use 140+ characters.
bhgoodell: Most frequently it leads to good contacts and awkward silences. I saw two people making out once, unsure if it led to any "sticky phenomenon." Hey-O!
bhgoodell: Can that joke even be printed?
Finally, who wins in the epic struggle for your immortal soul, Facebook or Twitter?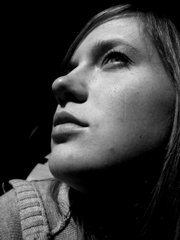 faryle: I do love me some Facebook, but Twitter has opened the door to listening in on others' conversations. It's like eavesdropping all the time.
jeffisageek: Twitter is where the true hardcore fans go so it will always have a special place in my heart. Twitter FTW!!!
jacquelineann: And the immortal soul goes to twitter.
mcompton: FB and Twitter are very different - different pieces of my heart. Twitter for general worldly knowledge and FB for stalking friends.
bhgoodell: Both are effective, powerful tools if used correctly...kind of like the Morris twins. I find Twitter, like Marcus, to be less frustrating.
More like this story on Lawrence.com