Wednesday, March 18, 2009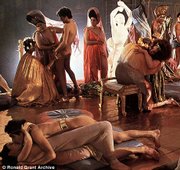 AIG CEO Edward Liddy testified before Congress today and responded to growing outrage over the millions of dollars paid out to company executives, saying it was "distasteful and difficult" but contractually obligated. President Obama has ordered Treasury Secretary Timothy Geithner to block $165 million in extra pay to AIG executives, saying that the insurance giant—who has received $170 billion in federal bailout money—exhibited "recklessness and greed" and could not "justify this outrage to the taxpayers who are keeping the company afloat."*…"These bonuses were written into contracts last year. AIG is merely fulfilling its duty as a law abiding corporation," said Liddy as he was frantically shredding documents related to AIG's involvement in the credit default swaps and fraudulent mortgage lending that sank the economy.
In related news, departing Kansas City Chiefs coach Herm Edwards was given a multi-million dollar bonus for the outstanding job he did in destroying the franchise.
During the Congressional hearings today, the government prepared this video to illustrate how deeply the U.S. taxpayer was getting boned by AIG:
*...based on actual news