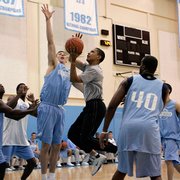 President Obama yesterday unveiled his NCAA Tournament bracket. Obama has North Carolina and Louisville making it to the final, with the Tar Heels winning it all. The President predicts that Kansas will be knocked out by Michigan State in the Sweet 16, arguing "Kansas is a young team, maturing—Bill Self has done an outstanding job there."
*... After sharing his bracket with them, Obama then invited the American people over to the White House to watch the NCAA Tournament. "There's going to be some ribs, a few kegs of Sam Adams, Bruce Springsteen will be playing—pretty laid back, no big deal," said the President. The most powerful man in the world then suggested everyone hang out after the games and play some "Street Fighter IV" on XBox or watch "Quantum of Solace" on Blu-Ray. "If anyone is up for it," continued the Commander in Chief, "we could get in a pick-up game, or just shoot the shit about constitutional law or whatever. I hope nobody minds if I fix the economy and provide health-care for everybody in between rounds of beer pong." The American people then begged Obama to stop being so damn cool because it was blowing their mind.
Republican governors whose state's teams were chosen by Obama to win, citing the socialist nature of his support, have refused the picks.
When asked how he went about making his bracket selections, Obama pointed to Vice President Joe Biden and responded, "Whatever he picked, I didn't." Biden then burst into tears and fled the Oval Office.
Also informing his decision making process, Obama cited prayer and consultation with Mormon Jesus:
*...based on actual news