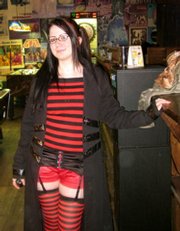 Kasha Morton, pizza slinger, computer techie, enjoys being a "total random jackass"
How do you save money?
"By keeping my debit card as far away from my hand as possible. That way I can't be like, 'Ooh! I see something pretty' and just swipe and go. When I do shop, I go to discount websites. I got these silk shorts at Odgirl.com. They have costumes and lingerie at low prices. If I send in a photo of me wearing their products, they'll give me an even bigger discount. Another way I save is hand-me-downs. The shirt I'm wearing is a hand-me-down from an ex who used to be into drag. It was awesome. I found some novelty contact lenses at a $10-and-under store in California once. Much cheaper than prescription lenses. I used to religiously wear this pair of neon green lenses to the point where people somehow thought it was my natural color. Another good way to save money is mom and dad. I live with them and pay rent, but it's free food and utilities. As the saying goes, "Incest is best—keep it in the family."
How do you splurge?
"I take my nice little debit card to the mall, or I'll go online to Manic Panic.com. It's my scourge. I'll buy dye and hair extensions all the pretty little scene kids like to wear. I indulged in this garter set, which I had been craving forever as the Halloween costume I was never able to wear."      
More like this story on Lawrence.com