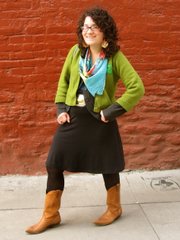 Name: Anna Luna
Age: 24
Sign: Gemini/Cancer cusp
Hometown: Columbia, MO
Time in Lawrence: 3 months
Occupation: The Casbah Market, and Barista at The Merc.
What were you doing when scouted? Out and about on a beautiful day.
Favorite places? The Casbah, Blackbird Trading Post, Social Service League, The Pig, and the Nice Cafe.
How would you describe your style? An extra on the Cosby Show.
Where do you get your hair cut? The last time I got my hair cut, I went to Andiy at Static.
Favorite trends? I like bold accessories. I also really like when people are theatrical in how they dress, and I like when people are authentic and true to themselves in the way that they dress.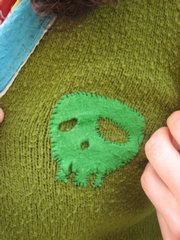 Least favorite trends? I hate outfits that are too picture perfect or that try too hard. I'm also not into the latex/metallic leggings.
Tattoos/piercings? I had my lip pierced by Brian at Living Campus in Columbia, MO.
Favorite coffee shop? I like La Prima Tazza because it feels really comfortable, and there's a feeling of no obligations when you go there. Some coffee shops feel like you have to stay there for hours and hang out, but at Tazza you can stay or leave ... it just feels really natural.
Favorite bar? I'd say The Taproom, hands down. Their gin and tonics are so cheap and so good!
What would you like to see more of in Lawrence? I'd like to see more funding and support for the public library, more free events/activities like free food, dance offs, block parties, and free movies.
What would you like to see less of in Lawrence? I'd like to see less development, and less DJs playing mashups.
Who are your fashion influences? I would definitely say Anjelica Huston. I really like the style and perspective of Isabella Blow, and of course Missy Elliot always has her own style going on.
What's in your purse? A water bottle, leftovers, a half-eaten chocolate bar, Ready Made magazine, and my passport.
Tell us a secret: In the words of Gloria Estefan, "The rhythm is gonna get me....tonight."
PRICE OF CLOTHING:
Boots: Purchased at Goodwill in Columbia, MO, 1 year ago for $6
Tights: Target, purchased 1 1/2 years ago for $5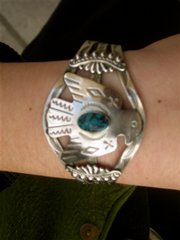 Skirt: Purchased at Blackberry Exchange in Columbia, MO, 1 year ago, for $14
Belt: Wildman Vintage, purchased last week for $15
Cardigan: I borrowed it from someone and modified it myself, about 4 years ago
Scarf: Wildman Vintage purchased last week for $4
Earrings: Target, 1 year ago for $8
Bracelet: Purchased at the Goodwill in Columbia, MO, 5 years ago for $2
Ring: Purchased at the Peace Nook in Columbia, MO for $10, 2 years ago
Purse: On sale at Target, $10, a few months ago