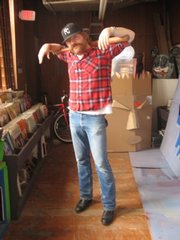 Name: Brad Shanks
Age: 32
Sign: Aries
Time in Lawrence: On and off for 8 years
Occupation: Record store clerk, grad student, Ebony & Ivory DJ, plays in Blood on the Wall/Bandit Teeth/Tracer Face, member of The Squids softball team.
What were you doing when scouted? Practicing my swing at work.
Favorite places? Love Garden, Wild Man Vintage, the batting cages, and my basement.
How do you describe your style? 1 part Rick from Rick's place, 1 part pre-Michael McDonald era of the Doobie Brothers, and 1 part grungy Dad.
Where do you get your hair cut? Terri at the Green Room
Favorite trends? Wearing the same jeans everyday, fluid golf swings, and crystal necklaces on girls.
Least favorite trends? Bad gold swings, powder-blue Royals hats, and wetting your pants in public.
Tattoos/piercings? My tattoo was done by Carrie at Big Daddy Cadillacs. It's not finished yet.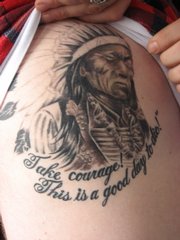 Favorite coffee shop? I go to every coffee shop, usually whichever one is closest to me at the time.
Favorite bar? The Tap Room and the Replay. I like all of them, even Bullwinkle's.
What would you like to see more of in Lawrence? Campfires and picnics and Smurfs. I'd also like to see a professional ping-pong tournament.
What would you like to see less of in Lawrence? Technology.
Who are your fashion influences? Altamont
People say I look like? Phillip Seymour Hoffman, Santa Claus, Meatloaf, and a complete mess.
Tell us a secret: I am a Viking. I also like to prank call people, especially Love Garden, Rudy's, and Wild Man Vintage.
PRICE OF CLOTHING:
Boots: Wildman Vintage, purchased 6 months ago for $30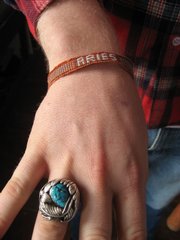 Jeans: Levis, purchased 2 years ago for $11
T-shirt: Hanes, purchased at Target for $5.99
Flannel: Wildman Vintage, purchased 6 months ago for $8
Hat: Sports Dome, purchased 2 months ago for $30
Ring: A gift from my sister, 4 years ago
Bracelet: It's a Beautiful Day in KC, purchased 2 months ago for $1
Watch: Tag Heuer, a high school graduation present from my Grandparents