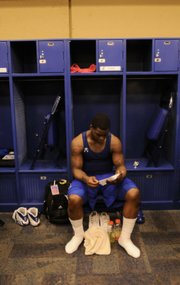 KU was unable to progress to the Elite 8 of the NCAA Tournament, losing to Michigan State in a 67-62 nail biter. The Jayhawks squandered an early 13 point lead and were overtaken in the final minute of the game thanks to fouls and missed opportunities. Junior Sherron Collins accepted the blame for those last minute mistakes, saying "Dish it all on me."
*...Collins also manned up when it came to accepting blame for other failures. "AIG? I dropped the ball on those credit default swaps," lamented Collins. "9/11? I don't want anybody putting that on George Tenet or Condoleeza Rice—that was all me. Spanish flu pandemic of 1918? My bad. And if only I hadn't fouled Michigan State point guard Kalin Lucas, maybe I could have prevented the Red River from cresting over the levies in Fargo."
President Obama, who had picked Michigan State over KU, thanked Bill Self for not forcing him to deploy US troops to Indianapolis in order to prevent further backsliding in his bracket.
Now that the KU men's basketball team is out of the tournament, Jayhawk fans will use the binge drinking calories they accrued in March to hibernate in their man-caves—nestled amongst Miller Lite cans, pizza crusts and shredded brackets—until the kickoff of football season.
To numb your soul and explode your brain to the point where the shattering KU loss no longer has the ability to cause pain, doctors recommend watching this:
*...based on actual news