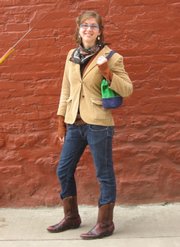 Name: Calla Martin
Age: 26
Sign: Scorpio/Sagittarius cusp
Hometown: Jefferson City, MO
Time in Lawrence: I'm visiting a friend, so less than 24 hours.
Occupation: Architecture Grad Student at the University of Minnesota.
What were you doing when scouted? Out and about on a nice day.
Favorite places? I really like the campus here, it's really pretty. I also like all of the interesting old houses in Lawrence. So far, I've really enjoyed going to Henry's, Brits, and Solidarity!
How would you describe your style? I would say my style is inspired by traveling, and lately it seems to be very British influenced.
Where do you get your hair cut? Last time I got my hair cut, I was in Altoona, IA visiting my Grandparents and I went to a place called Hair FX.
Favorite trends? T-shirts and jeans, riding boots, and beards.
Least favorite trends? I go back and forth on mustaches. Some guys just can't pull it off. I'm not big on North Face jackets. I also don't like that everyone wears university apparel, because it reminds me of high school.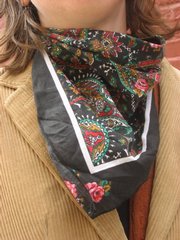 Favorite coffee shop? I like hanging out at Henry's. It has a real bookish feel. You can feel the age of the place.
Favorite bar? I haven't been here long enough-- but I plan on going to some bars later tonight.
What would you like to see more of in Lawrence? More Ski Ball and more bicycles.
What would you like to see less of? I'd like to see less bad sand-blasting jobs on all of the historic buildings downtown.
Who are your fashion influences? Frank Lloyd Wright, my friend Anna Luna, and a friend from school, Jack Northrup.
What's in your purse? A Sunshine Express CD, a flier from the New Orleans petting zoo, a camera, Tofurky jerky, and directions to Lawrence.
Tell us a secret: I can make weird shapes with my tongue.
PRICE OF CLOTHING: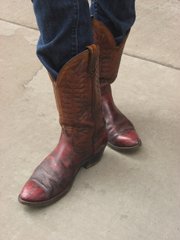 Boots: Purchased at Wardrobe in Columbia, MO about 2 months ago for $12
Jeans: Levis, purchased online for $40, 6 months ago
Blazer: Purchased at the Goodwill, a year ago for $7
Scarf: My mother's scarf from the '80s, I've had it forever.
Earrings: My college roommate bought these for me for my birthday last year.
Purse: Purchased at an estate sale in Missouri, last year for $5