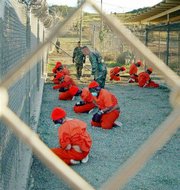 Miss Universe Dayana Mendoza and Miss USA Crystle Stewart toured the U.S. prison for terrorism suspects at Guantanamo Bay this week. The beauty pageant winners took part in a VIP tour to entertain American military personnel at the prison in Cuba. "The water in Guantanamo Bay is soooo beautiful!" Mendoza wrote in a blog entry of her trip. "I didn't want to leave, it was such a relaxing place, so calm and beautiful."
*...Tragically, both women drowned when they mistakenly thought waterboarding was part of the swimsuit competition.
The Muslim detainees, awaking that morning to see virginal women cavorting on the beach, thought they had suicide bombed and gone to heaven.
Miss Hawaiian Tropic Constitutional Law Scholar and America's Hottest ACLU Lawyer were not granted similar access.
Military officials say the trip went much better than the Miley Cyrus concert at Abu Ghraib. Said one organizer, "The Abu Ghraib detainees were begging us to resume genital electrocution five minutes into the show."
The pageant winners' visit to Guantanamo might have run afoul of the Geneva Conventions, but Pentagon lawyers surreptitiously redefined the talent portion of the day as an "enhanced interrogation technique."
According to the Pentagon memo, this no longer qualifies as torture:
A GOP spokesperson attempts to explain how GITMO—whose detainees are supposedly so dangerous they can never be released and if it was ever closed there would be raping and pillaging by Muslim extremists in US streets—is apparently safe enough to be toured by beauty queens:
*...based on actual news