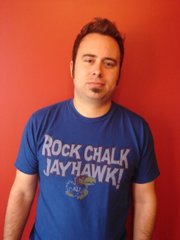 Bryan Anderson, English teacher, bass player, armchair color-commentator
Well, KU was kicked out of the NCAA Tournament last week. As a fan, how are you coping? Were you at any point after the Michigan State game cradling a fifth of whiskey in one hand and a pistol in the other?
"The last 2 minutes of the Michigan State game included anger, denial, bargaining, and— eventually—acceptance. The car ride home was a somber experience. My wife asked me if I was going to be all right, and I stared blankly out the window and said I wasn't ready to talk about it yet. I swore that I would not watch TV or read the paper until the NCAA tournament was over, but I got bored and caved the next morning."
What were your expectations for the team this season? Ludicrously inflated or irrationally exuberant?
"After the triumphant season last year and the departure of everyone and their grandma from the team, I convinced myself that I would be satisfied with finishing in the top 3 in the conference, and just making the tournament. But since Bill Self is brilliant, the team just kept getting better, and my expectations grew to the point where I was measuring Allen Fieldhouse for another Final Four banner."
What were some of the expletives you were hurling during the game?
"'Mother Bitch' and 'Jesus Tits' are a couple of favorites, but you can't overlook a classic like the F-Bomb."
Best boozes to help soothe the wounded Jayhawk spirit?
"There are few ills in the world that cannot be soothed with the drinking of cocktails containing at least one of the brown liquors and listening to loud rock and roll."
Who should we blame for the loss? Bill Self? Sherron Collins? Michigan State? God? Octomom for some reason?
"Michigan State now goes to the top of the list of organizations and individuals who have wronged the Jayhawks. Syracuse, UCLA, Bradley, Bucknell, and Ed Hightower are all included. I put Duke on the list for beating us in the 1986 Final Four when I was 9. The only way to get removed from the list is to lose spectacularly to KU in the Final Four— North Carolina, I'm looking at you—or perform some great service for Jayhawk Nation. Roy Williams was removed from the list for wearing that Jayhawk sticker during the championship game last year. The only way Missouri can be removed from the list is if they admit they were wrong in forming the entire state, and disbanding."
What advice do you have for those inconsolable KU fans who are still reeling from this blow? How do talk them down from the ledge? Is there hope? Does it ever get any easier?
"Time heals all wounds because it eventually turns into next season. I'm sure Cole is coming back. I think Sherron is coming back. I'm pretty sure that Lance Stephenson kid from Brooklyn is going to declare he's coming to KU this week. If all those things happen, then I guarantee we will get to the Final Four next year. So, soon enough it will be time to chase this dragon again. But I swear I can quit anytime."