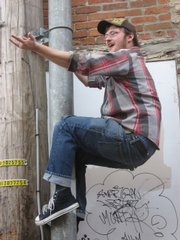 Name: Seth Wiese
Age: 26
Sign: I'm usually closer to a dead-end sign.
Hometown: Davenport, Iowa
Time in Lawrence: 5 years
Occupation: Sound guy, door guy, clerk at Jensen's Liquor, and drummer for the Rooftop Vigilantes.
What were you doing when scouted? I was discussing logo and layout design for the Baby Boo 7" split with my Lovely Sea business partner.
Favorite places? The Replay, The Jackpot, The Tap Room, Richard's Music, Love Garden, Aimee's, and The Pig.
How would you describe your style? Band t-shirts and jeans. That's what I wear every day, and I have over 80 band t-shirts.
Where do you get your hair cut? Hannah Hyde cuts it, or sometimes I go to Malcolm at Amyx's.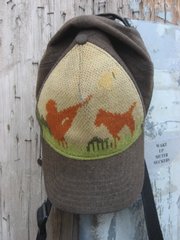 Favorite trends? I would say my favorite fashion trend is Aaron Strelow. He has got class. Also, whatever his wife Rachel is wearing, because she always looks stylish.
Least favorite trends? Girls who put on makeup and leave the house wearing their pajamas.
Tattoos/piercings? I have three tattoos on my right arm. They're for my family, my music, and my God. They were done at Big Daddy Cadillacs; two of them by Carlos and one was done by Carrie.
Favorite coffee shop? I like going to Aimee's for the food and to hang out, and The Pig is good for getting a lot done because it's brighter. 
Favorite bar? I like The Replay and the Taproom the best. Good people, good times.
What would you like to see more of in Lawrence? I would like to see a fire escape on the corner of 8th and New Hampshire St.
What would you like to see less of in Lawrence? Art thieves and high-class hotels in the place of sandwich shops.
Who are your fashion influences? My dad circa 1987.
People say I look like: My dad circa 1987.
Tell us a secret: I always wanted to be Spiderman when I was little, and I guess I still do.
PRICE OF CLOTHING:
Shoes: Converse, purchased 6 years ago for $20.
Jeans: Levis, given to me at the jean-exchange program with my Dad, about 2 1/2 years ago.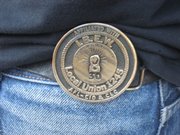 T-shirt: Given to me by These Are Powers when they played at the Replay, about 1 1/2 years ago.
Flannel: My dad's shirt from 1987, but he gave it to me about 4 years ago.
Sunglasses: I bought them off of a girl in Iowa for $7 about 2 years ago.
Hat: Free via The Replay lost and found, I've had it for about 2 years.
Rubber band bracelet: I've worn it for about 1 1/2 weeks; it's from Kelly at Love Garden.
Belt buckle: IBEW 1245 buckle from ATC, purchased for $8 about 2 years ago.
More like this story on Lawrence.com