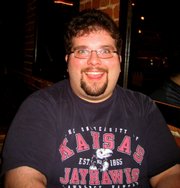 Chris Bianculli, assistant manager, geocacher, curler
"It's a little gem of a show on Travel Channel where this guy named Adam goes around the country and takes on eating challenges. He went to a steakhouse in Texas on the first episode and ate a 72-ounce steak. He does all sorts of challenges, be it eating a lot of food in a short amount of time or eating super spicy food to test his endurance. I've never seen him vomit, but there was one episode where he and a friend took on a pizzeria's carnivore challenge—something like a 36-inch pizza with 5 different kinds of meat on it—to see who could eat the most. His friend had to run around the corner of the building and had a 'reversal of fortune' as they call it. A 'reversal of fortune' is the official term for forfeit-by-vomit in the competitive eating world. I used to think I could do this stuff because I'm a big guy, but I recently went to On the Border and got their Endless Enchiladas. I could only eat 6 enchiladas. My friend had 13."
"It's still a pretty fantastic show, even though it went through a lull. It was hurt a lot by the writers' strike of 2007 and 2008. You could also tell at one point that the network was trying to force story-lines and characters on the show. They introduced a lot of wacky new interns, and you could tell a spinoff was being prepped, kind of like 'Saved by the Bell: The New Class.' Maybe 'Scrubs: The Next Generation.' Despite what a lot of people say, I don't think Zach Braff is a douchebag. He's just very, very nerdy and white."
"It's the most genius show ever written."