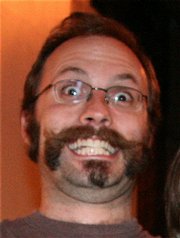 Gavon Laessig, fake journalist, real drunk, still enjoys interviewing
How do you save money?
"I recently went on a road trip to San Francisco, which turned into a kind of Bataan Death March of budgeting. After foolishly wasting money on luxuries such as lodging and food on the way up there, which is a good three-day drive if you're not jacked up on cocaine and Sparks, I had little money to play around with when I actually got to San Francisco. While I was there, I had to rely on a multi-pronged mooching strategy which you can apply anywhere in the country. Step one, crash with friends. I fortunately know several people out there and they were all kind enough to let me sweat alcohol into their couches after I blacked out on their stoop. Step two, look pathetic. If we've ever met, you know this step isn't hard for me and I generally don't have to pretend. By whimpering and looking emaciated I was able to play on the inherent decency of my friends. With a mixture of pity and revulsion, they often bought me food and drink. Thanks, chumps! Step three, go to where your friends work and get free stuff. This hook-up system got me a lot of comp beer and coffee. Seriously, thanks, chumps! On the trip back to Kansas from San Francisco, even more desperate measures were called for. I only ate stale, Target brand Goldfish for three days. The Epicurean excessess of the trip up there, from hotel rooms to KFC Famous Bowls, were a fond memory. It was a strict regemin of sleeping in my car at creepy rest stops in the Nevada and Utah hinterlands. Another way to save money on a road trip is—if you have a blow out in, oh, let's say the high Sierra mountains—not buying a new tire and riding on your donut for 1,500 miles. Lastly, these days canceling the print edition of your newspaper will save you beaucoup dollars, unfortunately."
How do you splurge?
"Good beer, new tires, and paying back my friends who loaned me gas money—they are the saintliest chumps a guy ever did know."
More like this story on Lawrence.com