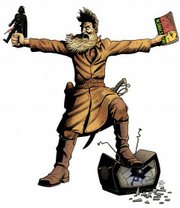 The fairgrounds in East Lawrence have been host to exotic livestock in the past, but they best gird themselves for a stampede of wookies and warlocks, for the fourth annual Free State Freecon is about to teleport into town.
This gathering of geek culture will feature comics and collectibles from around Kansas, and showcase talent homegrown in the Lawrence and KC area. Oh, and the "Free" in "Freecon" isn't just an homage to its host state ... it's a recession-friendly event with no admission charge.
Organizer Craig Klotz joined us to discuss the finer points of Kansas comics and Dr. Manhattan's junk.    
lawrence.com: How exactly would you describe a comic convention for the uninitiated?
Klotz: Let's start with my home-grown definition of a comicon.  A comic book convention, or "comicon" for short, is a gathering where all kinds of fans and creators of popular culture can gather to exchange ideas, publicize their works, network within the industry, or just come to buy and/or sell cool collectible stuff.
There are comic books, toys, action figures, cards, statues, posters, artwork, and all sorts of other neat memorabilia. Conventions also provide an opportunity for fans to meet the creators of their favorite comics. You can get books signed by the artist or writer, or get original sketches and artwork, or just shake their hand.
What's the state of the comic book industry these days? Is it recession-proof? Is it "Ghost Rider" starring Nicholas Cage-proof?
Past Event
Saturday, May 16, 2009, 10 a.m. to 5 p.m.
Douglas County 4-H Fairgrounds, 2110 Harper, Lawrence
All ages / Free
I can't speak to the industry as a whole, but since I have been running Kansas City Fan Conventions I've seen an up-tick in the turnout at the local and regional shows. I believe that comics and conventions are gaining in popularity, despite the recession.
Comics provide a visual form of storytelling, but the comic book industry doesn't seem to have a lot of the restrictions that TV and movies have. This gives comic book creators more freedom to tell stories the way they want to tell them, without a lot of meddling or censorship from a ratings board or corporate committee. The result is often crisper, more realized stories that have a broad appeal to fans of all ages, sexes, and types.
During the Hollywood writers strike a year and a half ago, several of Hollywood's top writers took on comic book projects, just to stay busy during the strike.  The line has really begun to blur between the comic book industry and the film industry.
This is a Kansas-centric convention. What contributions has the Free State made to comic culture, aside from "Wizard of Oz" adaptations with hyper-sexualized, gun-toting Dorothys?
Yes, it's true that there are working comic book creators all over Kansas. Many have attended the Kansas City Art Institute. Several have worked for either Hallmark or one of the big regional newspapers, and moved on to work in comics. One of our scheduled guests, Ande Parks, lives in Kansas and has written two graphic novels set in this area. "Union Station" tells the story of depression-era gangsters in Kansas City, while "Capote in Kansas" is a fish-out-of-water story about Truman Capote as he travels to rural Kansas in 1959 to research "In Cold Blood." It's also interesting to note that before he became a writer, Ande spent over a decade inking comics, esecially the artwork of Iowa artist Phil Hestor. It was Hestor and Parks that Kevin Smith chose to do the artwork for his "Clerks" comic, and later on the brilliant "Green Arrow" run he did for DC comics.
Have people dressed up for previous Kansas comic cons? Was nudity involved? Any fat guys spilling out of the Princess Leia slave bikini?
Our shows have always been very family-oriented events. No nudity, please.
People come to comicons all the time in costume. In fact, it's encouraged. There are even fan organizations that specialize in folks who make their own costumes.  At a recent comicon in Overland Park, there were characters in costume ranging from the Alien and Predator, to Hawkman and Hawkgirl, to Green Lantern, to various Star Wars characters. Someone had even built an actual remote-controlled R2D2 unit from scratch. Never underestimate the superior creativity of comic book fans!
What's the strangest celebrity encounter you've experienced/heard about at a convention? Any William Shatner getting into a fist fight with Alan Moore stuff? Edward James Olmos hitting on Elijah Wood?
This isn't exactly an answer to your question, but two of our 2009 Freecon guest artists, Ray Dillon and Renae De Liz from Golden Goat Studios out of Salina, plan to be wed at this year's Comicon International in San Diego. That's something that doesn't happen every day.
The urban legends about a kid selling his "Action Comics" collection and being able to afford gold plated yachts at Harvard ... any truth? Possible these days?
Once in a great while, stories like this arise.  Of course, a near-mint, graded copy of "Action Comics" #1 can easily sell in the hundreds of thousands of dollars. And there are many other rare titles that sell for outrageous dollar amounts on the even more rare occasion that they surface. I believe that comics in general can be good investments.  However, a word of caution goes with that. While a certain percentage of comic book titles always seem to trend upward in price, the rule of thumb is that most comic books tend to rise slightly or dip slightly, depending on several factors. Things like the creative team on the book, age of the book, overall condition, key issue, rare covers, etc.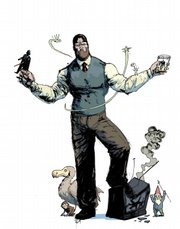 Do you think comics and the culture surrounding it will ever gain mainstream recognition? Does that culture even want mainstream acceptance, or does it revel in being underground?
Well, I'm sure there will always be those who prefer to work from the shadows of the underground and keep what they love to themselves. It's my belief, though, that comic culture is already mainstream. With the success of film franchises like "Spiderman" and "Batman," and other comic book-based films like "History of Violence" and "Watchmen," more and more people are looking at some of these films and then seeking out the source material. And with that process of discovering comics comes the realization for many people that comics are actually on the cutting edge of pop culture storytelling.
The conventional wisdom, pardon the pun, is that women are repelled from these functions as though they're some kind of lady-kryptonite. Rebuttal?
Absolutely false! Everyone knows that kryptonite only has a draining impact on those individuals who originate from the Planet Krypton, such as Kal-El, son of Jor-El.
Seriously though, comics have as many women readers as men.  In fact, female comic fans are a rising demographic. It's all about entertainment, having a good time, and finding bargains on cool stuff.
While there are certain types of men and women who I'm sure would not enjoy themselves at a comic convention, there are vast numbers of women who love comics and comicons as much as their male counterparts. Come on out to the show ladies! Get your Freecon!
Who would win in a fight ... the Incredible Hulk or Dr. Manhattan's giant blue wang?
If it sprayed molecularly dematerializing spoo all over the Hulk, thus rendering him into non-existance, Dr. Manhattan's giant blue wang would obviously win.  However, there's a problem with your hypothetical ... the Hulk is from the Marvel Universe and Dr. Manhattan's wang is from the DC universe. Therefore, these two could never actually meet. Wait a minute ... did somebody say "crossover"?
More like this story on Lawrence.com