The citizens of Lawrence love to love their weirdos.
Long before William S. Burroughs, and way before the That's My Dillions guy, or the Mumbler, or Dennis, or any of town's other widely recognized characters—Lawrence had a character who will top them all forever in the annals of eccentric lore: Gen. Hugh Cameron.
One of Lawrence's early abolitionist settlers, he lived in a tree house in the modern-day Pinckney neighborhood.
He supposedly walked to Washington, D.C., for every presidential inaugural ceremony.
Recurring event
Watkins Museum of History, 1047 Massachusetts St., Lawrence
All ages / Free
He didn't cut his hair from age 55—some say because of a failed romance, others to show of his support for women's rights.
His white beard was like 30 yards long.
He wore a general's uniform.
He rode a donkey draped in an American flag of the Fourth of July.
He slept in a zinc-lined casket in the winter.
He harbored a somewhat mystical religious bent, demonstrated in an April 1908 Lawrence Daily World article called "SLEEPS IN TREE—HUGH CAMERON ISN'T AFRAID OF WIND OR RAIN.—A Regular Rock-a-bye Baby Is The 82 Year Old Ex-Hermit—Has Telephone and Electric Lights." It reads...
"Aren't you afraid of falling off on a stormy night," the old general was asked.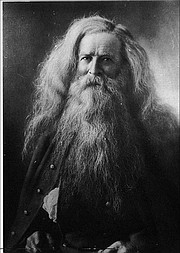 "Falling off," he snorted. Then with a step forward toward the speaker and a look of defiance on his face he thundered, "Afraid." Then softening and with a look of pity for the man who would mention fear, he slowly repeated, "Afraid, afraid."
The reason for sleeping in a tree was given in the words: "Relying upon the assurances, promises and commandments of Jesus, I hope to recover my sight and old time vitality and vigor, early in my 82nd year, and in my 83rd year I expect to go to the inauguration of Governor Stubbs and also that of President Theodore Roosevelt in an automobile."
He died seven and a half months later at his sister's home in Topeka.
Like most genuine weirdos, he wasn't always that way. He taught math at Rittenhouse Academy in Washington, D.C., for a short time before he got in trouble over abolitionist sympathizing. He founded a journal for the working man. He was an officer in the Civil War. He was said to have befriended some of the most prominent statesmen of his day, such as Henry Clay and Daniel Webster. He ran a ferry across the Kaw River and served as postmaster and justice of the peace. He fell in love with a woman named Mary but his letters went unanswered.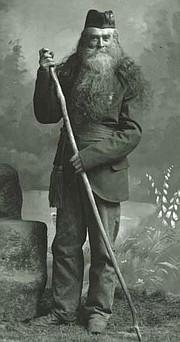 After he grew old and eccentric, reporters loved coming by the tree house to write features about him. KU students would spy on him. For some, this was a rite of passage. He reveled in his stature. He wrote letters to the editor and signed them "The Hermit of Kansas," or "Hugh Cameron, K.H." He seemed to think he was a sort of prophet.
Of course, like any weirdo, Cameron had his detractors—those who thought he was a crackpot, a drain on society, a distraction. Upon his death, the Daily World echoed such sentiments...
General Hugh Cameron is dead. The picturesque old man, with his queer costumes and queer ways, has passed away. He took great delight in the attention that was paid to him and considered the reputation of being a hermit as valuable as another would the holding of a place of great distinction. Furthermore, he considered that a hermit was entitled to special consideration and was not holden to the petty customs of social and business life.
Like the prophet of old General Cameron was not held in the high esteem at home that he was elsewhere. Those who knew him best did not believe that his songs of the Saviour of mankind harmonized with the way he treated his stock. Living in a hollow tree and sleeping in a box he evidently figured that domestic animals could also withstand the blasts of winter without the protection of barn or sheds.
Now that he is gone we can ask "What is the use of such a life?" "What has he accomplished?" While other men have been improving the community in which they have lived by erecting comfortable homes and taking an active part in the upbuilding of the state and nation, General Cameron has enshrouded himself in the mystic glory his imagination fancied surrounded the life of a hermit, and simply existed. Endowed by his creator with a good brain, its use was neglected and of choice he lived the life of an outcast.
The World believes the most humble man in Douglas county, who is looking, as best he can, after the interests of his family, to be of more importance to the community and state, than the hermit Cameron with his long beard, outlandish costume, and queer methods of living.
One hundred years and five months after his death, this queer figure still fascinates.
Local playwright Ric Averill has portrayed Cameron multiple times in the past few years in a one-man play he wrote concerning the early history of Kansas. He also incorporated Cameron as a key figure in a screenplay he wrote called "Boy." ("It hasn't sold yet," he says. "I'll sell it to you for half a mil.")
Averill has gone as far as to ride a donkey draped in an American flag, as Cameron did, on the Fourth of July. "Maybe when I get old, I'll have the authentic Cameron Beard," he says, "or become a hermit."
In the Pinckney neighborhood, Cameron's old stomping grounds, the citizens erected a plaque eight years ago that marks the spot of the tree house he moved into in his final year. Before that, he lived in a hollowed-out tree trunk on Cameron's Bluff, by the Westar power plant today.
Steve Braswell, president of the Pinckney Neighborhood Association, sees Cameron as a reminder that Lawrence can be a friendly home to even its most eccentric of citizens.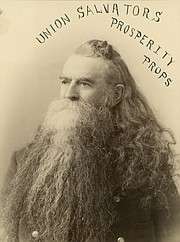 "Lawrence is accepting of a lot of different kinds of people and lifestyles and attitudes," he says. "I'm sure living in a tree house was pretty odd, even 100 years ago."
Though Cameron is best remembered for his later weirdness, local historian Katie Armitage reminds us that, before he became a hermit, he was an important member of the spitfire abolitionists who founded the city.
"Not all of the early settlers were activists, by any means," she says. "Most of the people who came here were really interested in getting land and bettering themselves. But there was this core of people who came for political activist reasons, primarily the New Englanders.
"They were never the majority, but they put a huge stamp on Lawrence. In the very early era, they controlled the pulpits and the banks and the politics. Most of the early leaders were of that ilk. I think Hugh Cameron fits into that, although he certainly did become more and more eccentric in his later years."
We leave you with a letter published in the Lawrence Daily World in 1901 concerning Carrie Nation's efforts to stamp out booze in Wichita (she was known to enter bars with a tomahawk in her hand):
Mrs. Nation.
Dear Madam: —In this age of woman servitude and cowardice, (woman the mother of mankind and the mother of the Son of God), the recent occurrence at Wichita is refreshing, calculated to inspire a hopefulness that the woman Moses has arisen. The Hermit of Kansas, notwithstanding the recent attempts to silence him by fires, can not refrain from this public expression, this acknowledgement of his gratitude to Almighty God and Carrie Nation for her heroic attempt to punish the crucifiers for their outrageous disregard of the divine and statute law.
All virtuous mothers in the United States of America should, now, take an especial pride in writing nation with a big N.
The Hermit is in favor of the coronation of Carrie Nation.
Respectfully,
Hugh Cameron, K. H.
More like this story on Lawrence.com