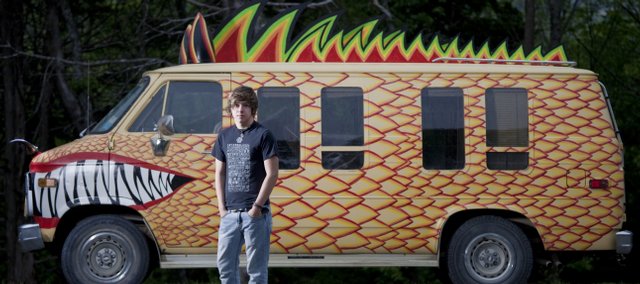 The Batmobile or Herbie the Love Bug could pull into the parking lot of Martin Nelick's school, and it's doubtful they would attract more attention than his own ride.
The Baldwin High School senior has lately been driving his souped-up Chevy G20 to class prior to its official unveiling at this weekend's Art Tougeau parade.
"The kids love it. They'll be climbing all over it," Nelick says. "The administration hates it. I took it to school once during an alumni-come-home banquet, and the administration got ticked off about it being there when all the old people were around. Either way, it gets a lot of strong reactions."
Nicknamed the Dragon Wagon, Nelick's creation actually began as a mandatory school assignment.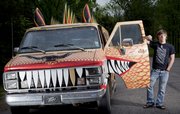 "Baldwin does this thing called the senior project, and you're supposed to help out the community or build something. I was already doing some volunteer work at a hospital, so I figured I'd do something for fun," the 18-year-old says.
So Nelick set his sights on the old family van that had sat dormant for years in the driveway of his rural property on the south edge of Lawrence. Unfortunately, the 1989 Chevy had been gathering more than just dust.
"Rats were living in it," he reveals. "Lots of them."
Past Event
Saturday, May 16, 2009, noon
Downtown Lawrence, Lawrence
All ages / Free
As part of his senior project, Nelick was required to select a mentor. He turned to family friend Pat Slimmer of Slimmer's Automotive Service, 2030 E. 23rd St.
"First, he helped me get it running," Nelick says. "The hardest part about getting it road-ready was some work had to be done on the suspension, some tires had to be replaced, and a lot of electrical work had to be done because the rats had chewed it all up.
"Just the other day I started it up, and there was a rat (in the engine), and it got torn apart."
Slimmer and Nelick decided the van would be a perfect candidate to be transformed into a piece worthy of the Art Tougeau parade, an annual downtown Lawrence tradition that features wheeled art creations from local and national artists.
"The curse of art cars is you take the worst vehicle in the world that's about to die and you make an art car out of that. But once you've done that, you can't let it die anymore," says Slimmer, who is president of the parade board.
Pre-Parade Activities
• Art Car Cruise: From 9 a.m. to 3 p.m. today, art cars artists will travel to various Lawrence schools to show off their creations. There they'll explain to kids why on earth you would take a perfectly good boat and put it on a car chassis.
•Painting Party: From 6:30 p.m.-9 p.m. a painting party will be held on the top level of the parking garage and Ninth and New Hampshire streets. Bring your car, bikes, skateboards or whatever and decorate it for the parade. Live music and popcorn will be served.
As soon as the vehicle actually became drivable, Nelick went to work on its eye-popping design.
"I sat down with some friends, and we came up with everything from a rocket ship to a rainbow to one that was a black-and-white optical illusion," Nelick says.
"We figured (a dragon) would be the easiest thing to do because a lot of it was just paint."
Covered with red and yellow scales, the Dragon Wagon also features Stegosaurus-style fins made of plywood material and teeth that look like they were once part of a picket fence. The most unusual addition is a set of horns, which are actually Vietnam-era rocket fairings that Nelick bought off eBay.
While he considers the art van a real creative success, Nelick wasn't able to modify it entirely the way he wanted. Plans were scrapped for installing a smoke system that would shoot flames out the van's mouth.
"You definitely notice it coming down the road," says Slimmer, who is no stranger to odd vehicles. His past Art Tougeau projects have included a UFO car and a Cadillac covered in chalkboard paint so kids can draw on it.
Slimmer says Nelick truly rose to the occasion with this enterprise.
"Martin is a good kid. He's really focused. He stuck with it and got it done," Slimmer says.
The student will get to show off his beast as part of the pre-parade festivities, which includes assembling the cars for elementary school children. Sadly, that will be one of the few Art Tougeau events Nelick will be able to partake in.
Past Event
Saturday, May 16, 2009, 3 p.m.
Replay Lounge, 946 Mass., Lawrence
All ages / Free
"I'm going to have to have somebody else drive it on Saturday in the parade because I'll be at graduation," he says.
So what will happen to the Dragon Wagon after the parade has ended?
Nelick notes, "It's for sale."