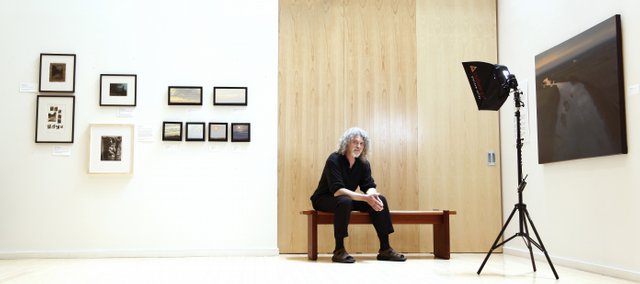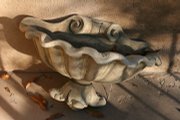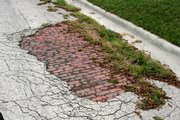 French painter Edouard Manet once said, "Art is a circle. You're either in or out."
For Rick Mitchell, his artistic career has been defined by a variety of circles, many involving a circular relationship with Lawrence.
In 1993, Mitchell decided to return to his hometown of Lawrence after spending 18 years on the faculty of Rutgers University in New Jersey. He'd applied to have an exhibition scheduled at the old Lawrence Arts Center (then on Vermont Street) and couldn't help but be enthralled by the vibe of the locale.
"I remember coming in and being absolutely charmed by it," Mitchell recalls.
"I would see little ballerinas taking dance classes, and then there'd be a local poetry reading with local artists. I thought it was like a French movie, where I was exposed to this rich, dynamic thing full of local color and interesting people."
Not only did Mitchell land an exhibit that December, he also landed a full-time job.
Now after serving 16 years as the arts center's gallery and special programs director, Mitchell will vacate the position. His last day is June 15.
As such, the artist has done a great deal of reflecting lately on the accomplishments he has witnessed and induced while at the center.
"In '93, it had the feeling of a grass-roots community hangout. It was a multipurpose building. We had things going on in the day, and we had to pack those things up so something else could happen at night," he says.
"There was a different character in those days. But a lot of it carried over because there were a lot of us who came over with it."
During his tenure at the center he has overseen the presentation of 250 exhibitions and 16 Lawrence Art Auctions. On average, the institution displays the work of more than 1,000 artists and art students in its galleries each year.
He says, "The institution has grown up quite a bit, and everything is a bit more formalized. We can do a lot of things we were never able to do before."
Is he satisfied with the direction the place is headed?
"In a diverse community like Lawrence, there are always different opinions about what its institutions do for the community and whether they're doing the right thing. But the key thing about this organization is that it does represent the diversity of opinion. You may have things going on here that people don't like, but ultimately you're going to have everything going on here one way or the other," he says.
Imagination and community
"Rick's position at the arts center has not been an easy one, but he has handled every situation with professionalism, honesty, fairness and an amazing willingness to solve problems," says noted Kansas artist Louis Copt.
(The last exhibit Mitchell will put together for the center focuses on the work of Copt and Jim Brothers. It opens June 5.)
Copt adds, "I feel Rick has made a sincere and valid attempt to reach out to all artists in our community and include them within the rules and framework of the LAC. He has set a high standard at the LAC and will be missed."
Regarding his years at the center, Mitchell cites a number of endeavors with which he's been proud to be involved.
Key among those is his work with the Committee on Imagination & Place, an organization of "writers, scholars and artists who collaborate on issues related to place."
The group is set to release its first book, titled "Imagination & Place: An Anthology," that gathers the work of 27 local contributors.
Not all of Mitchell's work at the arts center has yielded the results he expected, however.
"We've had some shows here that didn't attract a lot of attention, but it doesn't mean they weren't good," he says. "But I've found that the things we do here that are most deeply rooted in the community tend to be the most successful."
Overall, Mitchell says it's the arts center's dedication to youth that has impressed him the most.
"When I see the performances by young dancers or young theater people, and I see what's accomplished, that blows me away. All this crazy activity we have going on all the time and it yields something like that? It sure would have been cool to have that when I was their age," he says.
Full circle
Once having ingrained himself at Rutgers teaching photography and visual communication, Mitchell was fairly convinced he would spend the rest of his life on the East Coast. By his early 40s, he'd earned two Presidential Merit Awards for his work and had secured a post as director of the Agricultural Museum of New Jersey.
But he decided to return to Lawrence when his father took ill.
"I was feeling like I was coming back here and starting over again," Mitchell says of his early '90s reappearance. "I realized nobody really knew me from anybody else. I was like the new guy."
Mitchell says he viewed the arts center job as a way of reintroducing himself to the community. But 16 years later, having accomplished that reintroduction on one front, he is needing to move in a different direction.
"I'm feeling like there are other things I want to do in life, namely to reinvent myself as an artist again," Mitchell says.
Part of the decision was triggered by his age.
"I hit 60 in September," he explains. "A decade birthday gets your attention."
Mitchell says he plans on further pursuing his photography and writing (specifically in the field of interdisciplinary work), and is already projecting how that will pan out over the next decade.
By any means necessary
"(Rick) is at heart a teacher and an artist, which I believe has guided his vision and contemplative approach to his job," says Kris Hermanson, art education program director at the center.
"I think, most importantly, he genuinely valued and was inspired by his work here."
The Lawrence Arts Center has no clear successor to replace Mitchell. According to David Leamon, the center's executive director, the board is busy "reviewing and defining the job responsibilities, basic qualifications, skills required and experience needed to apply." So far, no hiring date has been set for the position.
Mitchell will remain living in Lawrence and continue to work with the arts center. He will by no means be "leaving the place behind emotionally."
As for a potential replacement, he offers this counsel:
"For 16 years I have done whatever was necessary in this position. Consequently, I've done everything from sell advertising for our publications to curating shows to driving nails. If they're looking for a particular skill — say a curatorial skill, primarily — then they're going to have to find someone who understands that's not the only thing they're going to do here. It requires an adaptable person."