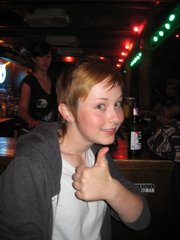 Krista Souter, badass server, artist, reader
Currently reading: "Hand Job: A Catalog of Type" by Michael Perry
"It's all about hand lettering and modern fonts that people do on their own. I love hand lettering and illustrative fonts. It's my passion. I don't have a favorite font, but I hate Comic Sans. It sucks. I hope the guy who invented Comic Sans is forced to stare at it for the rest of eternity. This book is visually stimulating and artistically inspirational."
Book everyone should read: "Lolita" by Vladimir Nabokov
"It's one of the best books ever written. I read it when I was younger, loved it, but took a Nabokov class at KU which made it even better. That book is mind blowing. I think Humbert Humbert is a real man who was really in love. I don't think you should touch kids or anything, but he's an okay guy. He's just misunderstood by a lot of people. If Nabokov can make me appreciate a pervert, actually sympathize with a pedophile, then you know it's a good read. It's beautifully written."