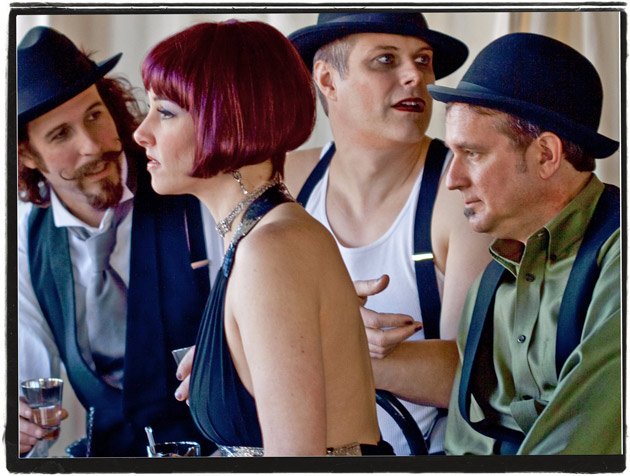 The members of Alacartoona were born a century later than their act would suggest.
Inspired by the cabarets of Weimar Republic Berlin, the Kansas City troupe puts a modern spin on that era's abundant creativity and absurdity. Alacartoona performances generally involve crowd interaction, laughter, and maybe an incident or two. They sing in boisterous voices and play accordions and seduce their audiences with a combination of hard liquor and woozy gypsy waltzes. They get bitten, jeered, and stabbed at with dinner knives, but other than that their audiences generally seem to have a good time.
We caught up with Alacartoonists Erin McGrane, Christian Hankel, Kyle Dahlquist, and Gregg Jackson at the start of a very busy week that will find the group filming a movie at KC's Off Center Theatre. They'll cap off the marathon with a live performance on Friday that will offer audiences a sneak peak of their forthcoming "Night In the Mirror" DVD.
No-fi highlights from the podcast
lawrence.com: What is it that you guys do exactly?
Hankel: We're looking back to a spirit of a time, particularly Berlin cabaret from 1920 to about 1933 … It was a time of great chaos and darkness in Germany, but it was a sudden explosion of musical and artistic and sexual and political freedom. It was the definition of what the 20th century was going to be. Probably never at any other point in time did it happen in such a compressed period.
McGrane: Generally called the Weimar Republic.
Hankel: We're not redoing the music of the time or the pieces; we're inspired by the spirit. Our songs have all sorts of inspirations that come from rock and roll and Irish music and Brazilian music and of course old '20s cabaret.
McGrane: As the band has evolved, we've moved towards more theatrical representation onstage. We're doing small vignettes and spoken-word pieces in addition to the music.
Jackson: One of the things about cabaret (in Berlin in the 1920s) is that the performers would get out and bang a bass drum and spout nonsense until the crowd rioted. Many cabaret shows were ended by the police because it was just accepted that the crowd would get incensed. People were up there naked picking pedals off of lilies, and they'd do it for an hour until the crowd freaked out and couldn't take it any more … Of course they'd lose money, so after awhile they'd have to start doing songs and things that people would come to see. You either sold out, or you closed down your theater because you were starving to death.
Have you ever incited riots?
McGrane: Christian had a guy pull a butter knife on him.
Hankel: I have a song called "Just a Drink or Two," and I go out in the audience and tell this story of a gay male prostitute who is a drunk … I play with the guys in the audience by saying, "I've seen you watching me; I know you like what you see." So I came around the back of this guy's table, and I looked down and he had a knife in his hand. I thought, "Oh, that's funny."
At the end of the song, I usually get in someone's face and grab a shirt or something. So I'm like, "Oh, the guy with the butter knife! I'll go back to him!" My judgment broke down a little bit that night. I grab him, and he throws me off of him and says, "Get the f*** off of me!" … I was so blown away, I couldn't even finish the song.
McGrane: A lot of what we do is interacting with the audience, and there have been other interesting evenings, like the night a guy bit me (on the breast)… We've gotten pretty good – through trial and error – about picking who to play with and who not to play with. People will give you visual clues about whether they want to participate and how much you can touch them. I went to this table of older couples that was laughing and clapping, and I felt very safe when I approached the table. I put my hand on this older guy's shoulder, and I was giving him the treatment, and he grabs me and just lays into me.
Hankel: I think the closest we ever came to a riot was when we played the Oktoberfest at Crown Center. People wanted oompahs and polkas, but they were so old that by the time they got their walkers in motion they forgot why they were pissed off.
What's the plan for this week?
McGrane: The concert on Friday is the wrap party and live sneak peak of what our DVD is going to be comprised of. We're making the film this week, and we'll wrap it up on Friday and have a live concert with bits and pieces from the film as well as our regular songbook … It's a stylized concert film that includes a lot of backstage and offstage vignettes.
Hankel: But the bulk of it is us performing onstage in front of an audience.
What other kind of characters are in your songs?
McGrane: Young, starving artists. Broken-hearted ex-hopers.
Hankel: A couple serial murderers.
McGrane: People who are tough on the outside but soft in the middle.
More like this story on Lawrence.com