When I'm playing episodes for GTA IV, I constantly have to remind myself that it's an add-on pack — these feel like complete games.

Aside from the GTA engine, which controls the graphics style and how Liberty City lives and breathes, it is a complete removal from the original game. The Ballad of Gay Tony puts you in the shoes of Luis Lopez, a bodyguard hired by Tony Prince ("Gay Tony") to assist in his nightclub businesses and other such practices. This final episode to the GTA IV series presents some of the best and most off the wall gameplay I've experienced in Liberty City.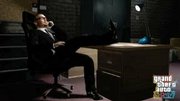 One of the first things I noticed about Gay Tony is that Luis juggles two significant relationships in the game: his friends and Tony. There are minor interjections with family members and the occasional mob connection here and there, but essentially you are learning how Luis spends his time on and off the clock. Surprisingly, by the end of the episode you realize that the title is appropriate because it's really all about Tony Prince, but told from Luis's perspective. Unlike GTA IV — which had protagonist Niko becoming such a sociopath that I had a tough time relating to him — Luis is a character I have no problem relating to. An unexpected bromance between Luis and Tony helps further his positive caricature all the way to the satisfying ending.
Yet again, the characters and plot sell this episode. Beyond that it's still the same Grand Theft Auto games we've been playing since the series took its epic leap in GTA III, but that's hardly a bad thing. If you liked GTA IV, then you're sure to like this title. If you were less than impressed with GTA IV, thankfully the new plotlines really drive you to continue and there's no backlash near the end like there was in GTA IV.

Luis's two best friends growing up are both likeable and a great catalyst for legal problems in his life. Tony, while he may be business savvy, seems to have no problem getting into major trouble with the crime lords of the city and it's always fun to bail him out. Additionally you will meet with those trying to strong-arm Tony's businesses, a disapproving mother and plenty of other faces that help mold a completely different side of Liberty City.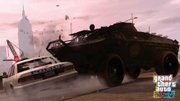 The shooting system has been improved, but it's still not quite where it needs to be. Gay Tony is loaded with shooter-heavy missions and the enemies take cover often and rarely poke their heads out for an easy target. Jumping in and out of cover is frustrating and at times restricting given how much you are expected to move around and adjust to the situation. Granted, this is just one portion of the overall experience and it does not hinder your appreciation of the episode.

On the other hand, the driving is better than ever and given that it's the activity you do most in the game, it's much appreciated. You will get the opportunity to take control of a battle helicopter, which controls a bit odd, but it's forgivable given that it has a one-time appearance. By the end of the 10-12 hour single player campaign, the cost for the add-on will be more than justified, but there are still plenty of things to do with Luis Lopez once you're done with the story.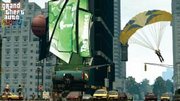 Multiplayer has been tweaked to now support more areas for combat in deathmatch and integrates point bonuses for streak kills and assists. Free Mode, a multiplayer way to roam the streets of Liberty City with friends, has more base jumps for you to complete and includes a parachute when you bail out of helicopters. Racing mode adds nitrous to every vehicle and integrates the new APC found in Gay Tony to switch things up on the road. All of these features are great, but I still found myself wondering if any of these modes had the pull to keep me playing over other online multiplayer games.

Much like the overall gameplay, if you like GTA IV's multiplayer, then you will appreciate and enjoy the new features. There are also scores given to you after completing each mission with specific goals in terms of time to complete and various other aspects such as how much damage you take or your accuracy. Once you've completed the game you can go back and replay any mission in hopes to get a higher completion percentage and even upload it to the Rockstar Social Club pages online. Those that are hooked to completing missions perfectly can spend hours trying to fine-tune their run.
No major changes have been made to the graphics in comparison to GTA IV, but a lot of buggy issues, draw distance issues and pop-ins have been smoothed over. It's not perfect, but the improvement is clearly there. The entire campaign is skinned in Gay Tony glam from the sparkly neon letters to the new clubbing areas of Liberty City. The soundtrack has been updated to integrate tunes that Tony would approve of and the voice acting is yet again amazing. There wasn't much work to be done, but developer Rockstar has kept up with the quality requirements they set in GTA IV.

I still can't stress this enough, it's absolutely amazing that for a DLC add-on episode. The Ballad of Gay Tony is longer and has more content than some major full priced releases. It gives the best story to date in the GTA IV games, features the most likeable protagonist and clearly has the craziest mission ever. If you own GTA IV this download is a must buy, especially if you loved the original game. If you don't own GTA IV, no worries, the recently released Episodes from Liberty City disc is budget-priced, doesn't require GTA IV to play and contains both Lost & Damned and The Ballad of Gay Tony. While the game may not be perfect, the price is so good that it's a shame to pass this up; had DLC not been available in this generation, I'm sure we would have seen these episodes as full releases like Vice City was for GTA III.

Graphics: 9.0
Sound: 9.0
First Play: 8.5
Multiplayer: 8.0
Replay Value: 8.0
Gameplay: 8.0
Overall: 8.3
More like this story on Lawrence.com