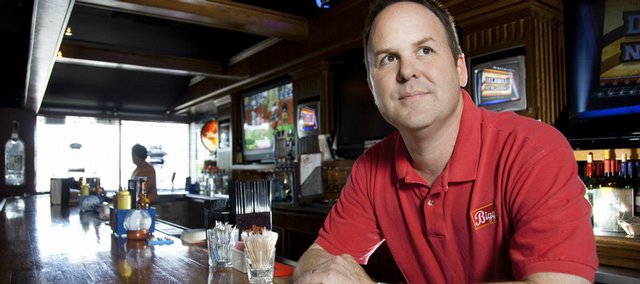 Tuesday, November 3, 2009
Past Event
Thursday, November 5, 2009, 4 p.m.
Bigg's Barbeque, 2429 S. Iowa Street, Lawrence
All ages / Free
Lawrence restaurant owner Doug Holiday thinks somebody ought to kick-start the process of changing local laws to more strictly punish minors who use fake IDs to purchase alcohol.
So, he thought, who better to kick-start anything than Judge Judy — the celebrity television jurist who frequently kicks a certain part of the anatomy for a daily television audience of about 10 million.
Holiday, owner of Lawrence's Bigg's BBQ, taped an episode of the nationally syndicated television show in May after his business got fined $500 for serving a minor alcohol during the 2008 Final Four. The episode is set to air Thursday at 4 p.m. on WDAF, Sunflower channel 4, as well as 11 a.m. on KTKA, Sunflower channel 12.
The 20-year-old used a fake ID to buy the beer.
"None of this made me very happy," Holiday said.
Holiday became even less happy when he learned that the minor, Charles Miller, ended up having his minor in possession and unlawful use of a driver's license charges reduced to a public consumption charge as part of a plea agreement in Lawrence Municipal Court.
The minor ended up paying $452 in fines and court fees — or, in other words — about $50 less than what Holiday paid in fines to the state's Alcoholic Beverage Control division.
"I understand my responsibility, and I'm willing to pay my fine," Holiday said. "But if I'm fined $500, I would feel better if I knew the kid was getting a $1,000 fine."
So, Holiday took the unusual step of filing a lawsuit in the small claims division of Douglas County District Court. The case sought to recover the $500 from the minor.
About three weeks after the filing, producers with the "Judge Mathis" program contacted Holiday about appearing on that show. Holiday asked his attorney for advice, and was jokingly told to hold out for "Judge Judy."
Then about one week later, the holdout was over. Representatives of the "Judge Judy" program said they had seen the case as part of their process of scouring small claims courts across the country.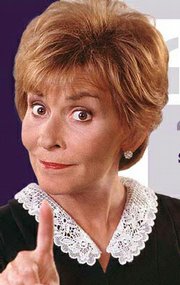 "I basically agreed to do it because I feel like some laws need to be addressed, and this was a way to get some attention for it," Holiday said.
Holiday can't talk about the verdict until the show airs. But Holiday can make a confession in the meantime: He was nervous.
"When I first went in there, I kind of felt like an elephant was sitting on my chest," Holiday said. "I was nervous, sweaty, the whole works. After all, she can kind of be intimidating."
Judge Judy — former family court judge Judith Sheindlin — has become known for catch phrases that she says often are meant to serve as punishment themselves. Among those on the hit parade: "beauty fades; dumb is forever"; and "either you're playing dumb or it is no act."
Holiday said he interrupted once and ended up on the wrong side of a turn of phrase.
"But I did OK that way," Holiday said. "I've watched enough to know how to stay out of trouble."
Holiday said he was paid a small appearance fee to be on the show, but said the big perk was free airfare and two nights at a nice downtown Los Angeles hotel. The taping took about 20 minutes, and Holiday said the show's producers didn't do much to drum up drama.
"They basically just told us to go out there and tell our story, and remember to raise your hand if you want to speak," Holiday said.
Attempts to reach the defendant weren't successful.
Holiday said he hopes his 15 minutes of fame can be turned into an audience with the Lawrence City Commission in the future to talk about minor in possession laws and the use of fake IDs.
"I would like to see some sort of mandatory fine for somebody who uses a false driver's license," Holiday said. "Maybe people would think twice before they use a false driver's license."
Lawrence Mayor Rob Chestnut said there are sometimes good reasons why Municipal Court prosecutors reduce charges in a case, but he said he does want to study whether the city's fines for alcohol offenses are sufficient deterrents.
"With some of the alcohol incidents that have happened in the community, it is an important time to have that discussion," Chestnut said.
More like this story on Lawrence.com