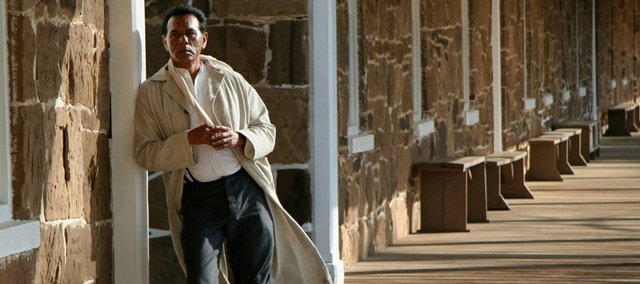 Thursday, November 5, 2009
Movie
Only Good Indian
***

Lawrence filmmaker Kevin Willmott and screenwriter Tom Carmody craft a compelling revisionist western. Set in Kansas during the early 1900s, it follows the journey of a Kickapoo teen who escapes from an Indian "training" school to be pursued by a Cherokee bounty hunter (Wes Studi) and legendary sheriff (J. Kenneth Campbell).
Lawrence film director Kevin Willmott spent the week in Alaska, where his latest work, "The Only Good Indian," opened at theaters as part of Native American Heritage Month.
Despite the subject matter of the feature being firmly rooted in Kansas history, the project resonated with the Anchorage community.
"There will be people after screenings who come up to you, and they'll give you what I now call 'the look,'" Willmott says.
"There will be tears in their eyes — a lady in Alaska just ran up and hugged me. It's because they went to boarding school or their mother went to a boarding school. And this is a piece of history that no one has acknowledged before."
That forgotten history serves as the crux of "The Only Good Indian," which was shot in Kansas during the summer of 2007. In the film, newcomer Winter Fox Frank plays a teenager taken from his family during the early 1900s and forcibly sent to Haskell under government orders to integrate into white society. He escapes with the intention of returning to his tribe on the Kickapoo of Kansas reservation. Wes Studi portrays a Cherokee bounty hunter hired to recapture the student, and J. Kenneth Campbell plays a legendary "Indian fighter"-turned-sheriff who ultimately pursues them both.
The independent movie makes its Lawrence premiere Friday at Liberty Hall.
Willmott considers the project a "revisionist western."
"It's revisionist in that it's told from the point of view of Native Americans," says Willmott, an associate professor of theater and film at Kansas University. "There's not a white surrogate in the film to make the story 'OK.' I want people to experience the story from the point of view of the people it's about. That still is a huge challenge in America."
The film has done well recently in competitions at the Newport Beach International Film Festival, Michael Moore's Traverse City Film Festival and the Tallgrass Film Festival in Wichita, where it set attendance records. While the festival circuit has embraced the project, Willmott really considers Native Americans as his primary target audience.
"You have to narrow it down to a group of folks you can depend on," he says. "We know we have a film everybody will like — 'everybody' means anybody who has a brain. But the challenge of self-distribution is you've got to get it to them. So you got to start with the people you can count on and go from there."
Community outreach
When writer-producer Tom Carmody first came up with the story in 2005, he turned to the Native American community for help with ensuring the tale was culturally and historically truthful.
"Dan Wildcat and Hanay Geiogamah, who are co-executive producers on the film, really looked at it from a Native American perspective — since I'm not Native American — and they were saying, 'No, that wouldn't have happened. You might consider this.' That made a huge difference for us," Carmody recalls.
Carmody points to certain changes that were introduced, such as a scene that originally depicted Haskell students as being brought there in chains. Wildcat corrected that as being historically inaccurate, and switched the detail to only those who had attempted escape being tied with ropes.
Another scene initially had the school characters visiting a neighboring graveyard at night in honor of the fellow students who had died there.
"Dan said there would be no way they would have gone at night," Carmody explains.
Additionally, input from members of the Kickapoo tribe of Kansas proved valuable. Tribal elder George Whitewater and tribal member Howard Allen taught the actors the intricacy of the Kickapoo language for scenes set within the culture.
"People in general were very helpful," Carmody says. "Everybody realizes we were a low-budget film, but we were trying to tell an important story."
Star power
"The Only Good Indian" got its biggest break in January when it was selected to the prestigious Sundance Film Festival.
Along with the notoriety that accompanies such an exclusive honor, the movie is perhaps best bolstered by the good fortune of landing Wes Studi as one of its central characters. A veteran of films such as "The Last of the Mohicans," "Dances with Wolves," "Heat" and the upcoming "Avatar," Studi is arguably the most recognizable Native American actor on the planet.
Calling from his home in New Mexico, where he is spending the afternoon riding horses, Studi says he is conscientious when first reading a script that it represents native culture accurately.
"I pay attention to that almost automatically," he says. "I don't make a huge point of it, but on the other hand, if I see huge discrepancies that I feel are over the line I'll definitely do something about it. I want to keep things as authentic as possible, especially if we're describing a particular people."
Has he turned down roles if depictions were inauthentic?
"Perhaps if they were insensitive, yes," he says.
As for Hollywood's portrayal of native cultures, Studi says, "It improves or doesn't improve according to the American dollar. Or maybe we're going by euros these days."
That is just one of many worries when it comes to the current motion picture industry. Studi, whose career is always bouncing between big-budget blockbusters and intimate indies, understands the difficulties in putting together an enterprise such as "The Only Good Indian."
"Independent film is in one of the worst positions it's been in for a good long while," he says. "Before the boom in the last decade with the Weinstein era, it was moving along at a pace where it had a place in Hollywood. But now with the conglomerations of television and film and every kind of entertainment you can imagine due to new technologies, it's a new ballgame. And independent film is looking for a way to be seen."
Independent spiral
While "The Only Good Indian" has picked up a foreign distributor — PorchLight Entertainment — it still has yet to secure a stateside deal.
Carmody says his production team is instead preparing to employ a release strategy which will launch by selling the DVD on its Web site (theonlygoodindian.com).
"Phase two would be to try and get into the bigger box stores like Wal-Mart and Best Buy. Then their third phase would be to approach somebody like a Redbox or Blockbuster who might buy a large quantity on a national basis," Carmody says.
The filmmakers say they are also near to closing a deal with movie channel Starz.
Willmott says, "The model for the future for independent film is you're going to have to self-distribute, unless you're making films that do well within the Hollywood model, like certain horror films. It's not that other films can't work, it's just that you have to convince them of that. And that's really hard in a time of no money."