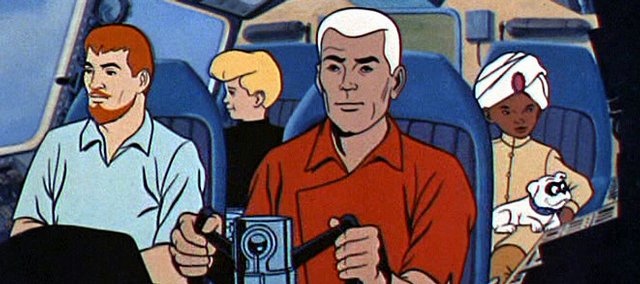 When local X 92.9 FM abruptly changed its format last month from modern rock to television theme songs, only the most mentally frail believed it to be a permanent solution.
Within a few days, the station shifted to its ultimate format — country — accompanied by a name change to 92.9 The Bull.
But it got me thinking: Would it really be so horrible to have a station that played nothing but TV themes?
Gratefully, the Web supplies the type of instant gratification that commercial radio does not. Thus, I've spent a lot of time lately with TelevisionTunes.
The site boasts more than 12,000 theme songs. Yes, that five-digit number is not a misprint. From "The A-Team" to "Zorro," there are more versions of small-screen melodies than you ever thought possible. (Five tracks alone are devoted to ultra-obscurities such as "The Mad Adventures of Rabbi Jacob.")
The design of TelevisionTunes is simple: You click on a title and it plays. The site's only additional feature is a "Name That Theme" game that is enormously challenging.
After getting lost for several hours navigating through childhood nostalgia and grown-up curiosity — was there really a show called "Chuck Norris: Karate Kommandos"? — I began compiling a list of what I believe are the greatest TV themes of all time.
One rule: They can't be established songs that were pilfered for the opening credits, such as Joan Jett's "Bad Reputation" from "Freaks and Geeks" or The Who's "Who Are You" from "CSI: Crime Scene Investigation." They must be original works composed specifically for a series.
I'm not entirely sure why all my selections are instrumentals. I'm not opposed to a goofy expositional theme song such as "The Brady Bunch" or "Phineas and Ferb." But perhaps the inclusion of vocals just makes the song seem cheesier and more dated.
Here are my top dozen themes of all time in alphabetical order:
• "Barney Miller"
• "Hawaii Five-O"
• "Jonny Quest"
• "King of the Hill"
• "Kolchak: The Night Stalker"
• "Lost in Space" (third season)
• "Mission: Impossible"
• "The Munsters"
• "Peter Gunn"
• "Sanford & Son"
• "The Twilight Zone"
• "Twin Peaks"
This by no means is meant to assess the quality of the show itself. Honestly, I'm not sure I've seen an episode of "Peter Gunn," yet the shady orchestra riff is unbeatable.
And what's the worst?
It's hard to sink any lower than that ballast of Me Decade awfulness known as "Three's Company." That includes all 18 excruciating variations of the theme found on TelevisionTunes.
— Entertainment editor Jon Niccum explores facets of pop culture that have established a unique niche on the Internet. He can be reached at 832-7178.