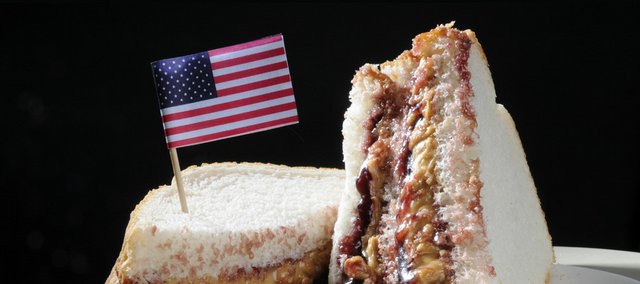 On the street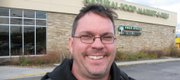 Recipe
Want a fresh take on PB&J;?
Rethink it as a truffle, not a sandwich.
Ingredients:
6 slices whole-wheat bread
1 1/2 cups peanut butter
10-ounce bottle (1 1/4 cups) no-sugar jam
Crushed nuts, finely diced dried fruit or powdered sugar, for coating (optional)
In a food processor, combine the bread, peanut butter and jam. Process until the ingredients form a thick, dark brown dough with an even consistency. There should be no streaks of peanut butter or jam.
Break off tablespoon-sized chunks of the dough and roll into balls. The truffles then can be rolled in crushed nuts, finely diced dried fruit or powdered sugar. If not serving immediately, refrigerate in an airtight container. Makes 24 truffles.
— The Associated Press
Is peanut butter and jelly our national sandwich? The numbers seem to indicate as much.
While many would counter with the hamburger — the birthplace of which is claimed by Connecticut, New York, Oklahoma, Texas and Wisconsin — keep in mind that the National Peanut Board reports the average American will eat more than 1,500 PB&Js; by the time he or she graduates from high school.
The United States is the world's largest producer and consumer of peanut butter. Americans eat more than 700 million pounds of peanut butter each year, which works out to about three and a half pounds per person.
While other cultures use peanut and other nut and seed butters, they are most commonly used in savory preparations — African stews, Asian peanut sauces and tahini, for example. Only Americans have taken wholeheartedly to that distinctive combination of salty and sweet that characterizes the classic PB&J.;
Despite the popularity of the PB&J;, it's rarely encountered outside the home kitchen. A couple of Lawrence restaurants list PB&Js; on their kids' menus, but WheatFields appears to be the only restaurant in town that lists the PB&J; on the daily menu .
"We sell 15 to 20 PB&Js; per day, mostly to adults," says Lonnie Fisher, dinner chef at WheatFields.
Fisher suspects that nostalgia, not nutritional concerns, drives most of the sales of WheatFields' PB&Js.;
"We grew up on PB&J;," Fisher says. "My mom put a PB&J; in my school lunch nearly every day."
The WheatFields' PB&J;, however, is not your standard lunchbox fare. Crusty country French bread stands in for the standard supermarket white, the peanut butter is organically produced, and Lawrence residents buck the national trend by choosing strawberry jam over grape jelly most of the time. WheatFields also offers raspberry, peach and blackberry options for the sweeter half of the sandwich.
For PB&J; purists, it's all about the ratio of PB to J, and for Fisher that means fifty-fifty.
"There should be equal amounts of each ingredient," says Fisher. "One taste shouldn't dominate the other."
A century of tinkering has resulted in endless variations of the humble PB&J.; It has been tricked out with fancy breads such as brioche and challah (though whole grains are nutritionally superior), and exotic preserves and spreads (try quince or guava). It has been prepared with tortillas like a quesadilla, spiked with sour pickles (popular down South) and augmented with marshmallow cream in a saccharine overkill called the Fluffernutter. But there has yet to be a PB&J; variant to challenge the dietary hubris of the legendary Fool's Gold Loaf.
The creation of a Denver restaurant called the Colorado Mine Company, the Fool's Gold Loaf contains four ingredients: a hollowed out, football-sized loaf of bread; a jar of peanut butter; a jar of grape jelly; and one pound of cooked bacon. Priced at $49.95 (the "fool" part of the sandwich's title), it was a favorite of — who else? — Elvis Presley.
In 1976, Presley and four friends flew from Memphis to Denver in Presley's private jet and consumed 22 Fool's Gold Loaves in a three-hour period, washing the sandwiches down with champagne.
Facts about peanuts and peanut butter from the National Peanut Board:
• The peanut is not a nut, but a legume related to beans and lentils.
• Peanuts are naturally cholesterol-free.
• Peanuts account for two-thirds of all snack nuts consumed in the United States.
• The average American consumes more than 6 pounds of peanuts and peanut butter products each year.
• March is National Peanut Month.
• Americans eat more than 700 million pounds of peanut butter each year.
• Peanut butter was the secret behind Mr. Ed's ability to "talk" as a horse.
• There are enough peanuts raised in 1 acre to make 30,000 peanut butter sandwiches.
• Peanut butter was first introduced to the United States in 1904 at the University Exposition in St. Louis.
• Peanut butter is consumed in 89 percent of U.S. households.
• Surveys have shown women and children prefer creamy, while most men opt for chunky. Likewise, people on the East Coast prefer creamy, but those on the West Coast prefer crunchy.
• Arachibutyrophobia is the fear of getting peanut butter stuck to the roof of your mouth.
• The world's largest peanut butter and jelly sandwich was created in Oklahoma City in 2002. It weighed 900 pounds and contained 350 pounds of peanut butter and 144 pounds of jelly.
• Americans eat enough peanut butter in a year to make more than 10 billion peanut butter and jelly sandwiches.
More like this story on Lawrence.com