Thursday, November 12, 2009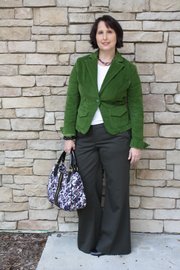 Eileen Rourke
Age: 35.
Sign: Scorpio.
Time in Lawrence: 16 years.
Hometown: Brookville.
What she's wearing:
Blazer: Purchased at Arizona Trading Company three months ago for $9.
Slacks: Purchased at Gap one week ago for $30.
Shirt: Merona, purchased at Arizona Trading Company years and years ago.
Boots: Seychelles, purchased at Arizona Trading Company six months ago for $11.
Handbag: Christian Siriano for Payless, gift received one week ago.
Necklace: Gift from China received years ago.
Bracelet: Purchased at the 1/2 Price Store years and years ago.
Ring: Sapphire and diamond ring, gift received on my wedding day.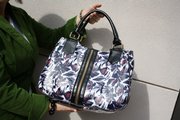 What were you doing when scouted: Having lunch.
How would you describe your style: I don't really have a style. I strive for casual, comfortable and easy...something that matches and is clean. I find being a mom of a pre-schooler makes it hard to find time for a style. Most days I'm throwing clothes on to just catch up with her!
Who are your fashion influences: Honestly, any put-together mom. I like looking at People and Glamour magazines to just get ideas of what's in style, and I try to mix and match items I already have in my closet. If I find a new trend that may flatter me (and fit in my budget), I'll add that to my wardrobe.
What are your favorite fashion trends: I love the layering look for cool fall days and jeans with boots, but no Uggs please.
What are your least favorite fashion trends: Baggy jeans, zippered jeans (I had a pair in 7th grade), untied sneakers, black shoes with white socks and mullets.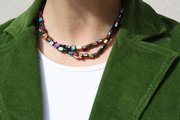 What would you like to see more of in Lawrence: I would like to see more outdoor concerts for families.
What would you like to see less of in Lawrence: Litter, graffiti and chain restaurants.
People say I look like: When I used to have long hair, people said I looked like Madeline Stowe.
Tell us a secret: I have a good luck charm a friend brought back from Japan.
How do you think Topeka differs from Lawrence? Topeka has always been the butt of many jokes for Lawrencians. I have to admit they have cheaper housing, better hospitals, a better library, a zoo and lower taxes — but I still wouldn't live there. Nothing beats our downtown, parks, culture and university.
More like this story on Lawrence.com