Friday, November 13, 2009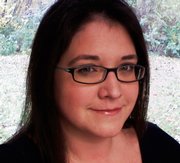 Caroline Wroczynski,@linercare, Optician, enjoys writing, reading, learning random facts, walks, and really bad photography with her phone
How do you save money?
"Not sure you could call it 'saving' money, more like little happy dances when there is money left after the bills have been paid. I do have these jugs all over my house I put change in. I think it multiplies by itself in there. I also am banking on wining the McDonald's Monopoly game. I have invested enough that I believe my time has come, it's an acceptable expense.
This year I was not going to be forced to pay the gas company huge amounts of money each month by keeping the thermostat set low. Of course once my fingers start to freeze I break down, so we'll see how that works. During the summer it was easier to keep all the utilities low. I am trying to save on gas in my car by trying to carpool with friends when I go out or getting everything I need on a 'straight' line to and from my house.
Biggest cost cutting measure I have used is actually just ordering water with my meals when I go out for dinner or limiting my Coke intake to either Sonic's Happy Hour or a can from a 12pack. I spend lots of money on Coke, so this has actually saved me lots of money each month. I tried cutting it back completely, but friends and co-workers don't like me too much when I do that.
I have actually started looking for coupons. Even cut them out sometimes. One of these times I will remember them when I go to the store. I do, however, use the in store specials that Hy-Vee offers. Sounds crazy, but they had a coupon for $10 back if you got 6 boxes of cereal. Was totally worth it when I totaled it up. Besides, now I have both a breakfast and a snack. I am also making lots of things from scratch. This was a bit costly to get all the basics the first time, but not having to keep buying bread and other pre-made items seems to be helpful, and the time it takes to do it keeps me from spending money elsewhere.
Apparently there is a woman in town that teaches a class on coupon use. Sounds funny, but also sounds like she saves a lot of money, so I am hoping to be able to take that soon. Ten year old boys eat a lot."
How do you splurge money?
"Ha! Anything that doesn't have to with a bill. Going downtown with friends, concerts and new shoes seem to be the winners most of the time. My money splurges generally include some time with friends. This makes it seem like an even greater return on my investment, since my friends are awesome."
More like this story on Lawrence.com