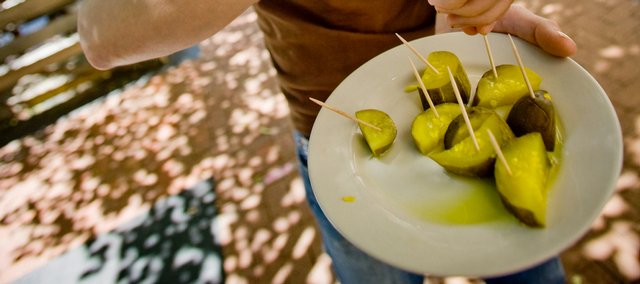 Friday, November 13, 2009
From the outside, it doesn't look like much.
Just a white and reddish-brown shack in a residential neighborhood.
But for many Kansans, it's a landmark as significant as the state Capitol or Allen Fieldhouse.
C.W. Porubsky's Deli and Tavern — commonly referred to simply as Porubsky's (pronounced pour-UHB-skis) — has served as the cornerstone of Topeka's "Little Russia" area since 1947. It's a place where chili, hot pickles and cold cuts are elevated to a nearly divine status.
"When you ask, 'What is the draw?,' people really can't tell you. It's just this innate comfortable feeling people get when they go inside," says Matt Porubsky, whose grandparents founded the establishment now run by his uncle.
"It has an atmosphere that a lot of diners try to emulate. They try to act like they've been around forever by putting stuff on the walls that say, 'We know your community.' When Porubsky's arose from Little Russia, it was the grocery store for that neighborhood. So it became the central gathering place. Then the whole city came there."
Porubsky decided that one way to capture the spot's unmistakable persona would be through a camera lens. So the 2002 Kansas University graduate in creative writing teamed with fellow KU grad David Kitchner to co-direct "Porubsky's — Transcendent Deli."
The 55-minute documentary screens twice this weekend: at 7 p.m. today at the Topeka and Shawnee County Public Library, 1515 SW 10th Ave., and 7 p.m. Sunday at Liberty Hall, 644 Mass. in Lawrence. The events are free and open to the public.
"The whole idea sprang from thinking about how long Porubsky's has been around and how long it can be around," he says. "All those small, neighborhood grocery store, mom and pop places are going out of business. I started thinking about family. Both my grandparents had passed away, and I wasn't able to ask the questions to them. I wanted to preserve the story and the history of this place."
Chili and pickles
This idea was made all the more significant on Tuesday when proprietor Charlie Porubsky Jr. suffered a heart attack.
It forced the restaurant to immediately close while he recovered, leaving hungry patrons chili-deprived and pickle-less. He hopes to be back to work next week.
Charlie makes every batch of chili himself, and the documentary spends much time trying to analyze why patrons react to the simple dish with such passion.
"It's like eating a blanket," Matt Porubsky says. "It's very rich and thick and warm. And when you're done, you want to go to sleep."
In "Transcendent Deli," the filmmaker blindfolds a woman new to the chili — which is always served in a Styrofoam bowl with a plastic spoon — and asks her to explain what the taste is all about.
"But then when she looks at it, she says, 'Oh, it looks like school chili.' There are no tomatoes or vegetables. It's just an intense, gravy-style chili. Yet it's been in Gourmet magazine."
Leah Sewell, who co-wrote the film with Porubsky, says some of the magic may lie in the hardware: The chili has been made in the same pots on the same stove for more than 50 years.
"It's what you expect chili should taste like," Sewell says. "It's not exceptional. There's nothing fancy about it. It's just right."
Then there are the famous hot pickles, known for their incendiary spiciness.
"I love to watch the expression on someone's face when they take a bite of that pickle. It's hilarious," Porubsky says.
The fare has earned Porubsky's a national reputation and much press over the years. It's also attracted its share of celebrity clients. Kathleen Sebelius and George Brett have been spotted there, among others.
"President's Ford's daughter (Susan) ate there one time with all her Secret Service around her," Porubsky recalls. "That's supposedly the only time we ever reserved a table."
Artistic gathering
"The decision to make a film about a legendary place like this was a no-brainer," says Jeff Carson, executive producer of the documentary and president of Gizmo Pictures, which provided personnel and gear to shoot and edit the project.
Carson was drawn to the back story of the establishment — a migrant neighborhood isolated by the railroad tracks to the north, and the river to the south — which became a unique gathering place for a homogenous group of immigrants.
"It became the place for politicians to hang out and gather opinions about lawmaking from true working-class people," he says.
"One of the ironies, of course, is that the neighborhood has changed. The old-timers have mostly moved on and the homes are mostly rentals now, and the struggle to continue the business continues."
Carson is one of numerous Topekans who added their particular talents to the movie. Notables such as Justin Marable created the original artwork for the poster and the DVD cover. Musicians Dan and Sam Billen composed and performed the original soundtrack.
Work began on the project two years ago. Financing came from a not-for-profit foundation called the Porubsky Documentary Fund through the Topeka Community Foundation.
It's quite an undertaking for Porubsky, who never would have guessed he'd still be so involved with the place well into his adulthood.
"I started working there when I was 11 and worked there on the weekends until I was 16." he recalls. "As a young person, I didn't like being there. I wanted to go. I just wanted to do my own thing. I didn't recognize how much people loved it."
"Transcendent Deli" has helped him comprehend that comfort-food allure.
"It never changes," Porubsky says. "It's always the same, and that's what people like, too."