Saturday, November 14, 2009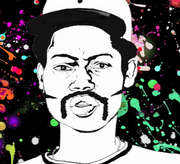 Sports are depressing these days. Between the Chiefs rendering the very meaning of "awful" insufficient, and the KU football team on a bigger skid than the one in my Jockey's (just kidding...I don't wear underwear), it's enough to drive a fair weather fan to spiked Gatorade.
Hell, even Bill Self is acting weird and saying strange things about his players' butts.
Fortunately, there are heroes from the athletic pantheon from which we can still draw succor. I present to you Dock Ellis, the late Pirates pitcher who accomplished one of the most astounding feats in sporting history: pitching a no-hitter while completely bombed on acid.
Here is his inspiring story, told in his own words, animated for sports culture site No Mas by James Blagden. (Thanks for the link Shelby!)
Makes you wonder what Todd Reesing could accomplish if you just slipped him some blotter, doesn't it? No, it doesn't, because that would be illegal. Shame on you.
Here's another short by Blagden in which Muhammad Ali fights James Brown. Makes you wonder what would happen if Muhammad Ali fought Superman, doesn't it? No, it doesn't, because that would be stupid. Shame on...wait, what? Muhammad Ali DID fight Superman? Are you just messing with me because I'm on acid?*
*(I'm not on acid.)