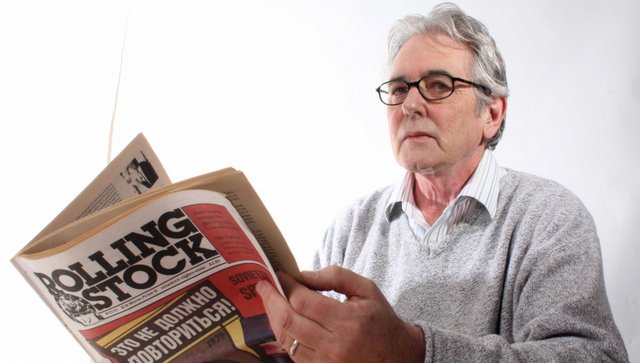 Sunday, November 15, 2009
Past Event
Thursday, November 19, 2009, 6:30 p.m.
Spencer Museum of Art, 1301 Miss., KU campus, Lawrence
All ages / Free
"Like all art, most poetry is awful," says Jim McCrary, referring as much to his own work as anyone else's. "The Poet's Corner in the newspaper. You know what I mean."
He divulges that reading his own poems often causes feelings of insecurity and embarrassment. His voice, permanently hoarse from a "frozen" vocal cord, can be problematic at readings. Yet McCrary, now 68, has been actively writing, publishing and reading poetry for over 40 years.
An undiagnosed dyslexic until his 50s, McCrary doesn't spell too well and seems to abhor the comma. And while his syntax often reads as fevered and foreign, his sharp humor and his strikingly odd juxtapositions evoke images and feelings too meaningful, too incisive to chalk up to chance. McCrary says he just writes it down and scratches at it until it's done.
Anti-poet? Non-poet? Deconstructionist? McCrary generally dodges attempts at classification by quoting his mentor, poet David Bromige: "I know what I like and its not art." But in the DIY world of chapbooks — poetry 'zines, of which McCrary has published several dozen — McCrary is considered an innovator, a masterful technician and an artist indeed.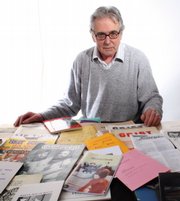 His first "real" book, "All That," a collection of chapbooks dating from 1987 to 2008, was published by ManyPenny Press in 2008. Critics, readers and peers have been generous in praise. "Peek inside," writes poet Richard Lopez on the back cover of McCrary's book, "and you'll find poetics with a tough no-bullsh*t intelligence, yet with a language made of love and tenderness."
McCrary will read with Lawrence poet Judy Roitman from "All That" on Nov. 19 at the Spencer Museum of Art.
Lawrence, too, plays a part in McCrary's double-edged poems. Soon after his arrival in the early '60s, McCrary fell in with the free-wheeling literati at the Abingdon Book Shop, forming lasting friendships with the likes of GRIST publisher John Fowler, and writers Charles Plymell and George Kimball, and later with William S. Burroughs, S. Clay Wilson and Allen Ginsberg. Whether alienated by his dyslexia, or swayed by the influence of the company he was keeping, it was then that McCrary staked his claim on poetry's revolutionary fringe.
Neither effort nor resolve has wavered since. Nor has his predilection for outcasts, outlaws and Wild West parables.
Podcast episode
"Like all art, most poetry is awful," says Jim McCrary, referring as much to his own work as anyone else's. "The Poet's Corner in the newspaper. You know what I mean." He divulges that reading his own poems often causes feelings of insecurity and embarrassment. His voice, permanently hoarse from ...
And while the mainstream warms to his voluminous body of work, McCrary, in a characteristic about-face, is currently focused not so much on the printed page as on the computer screen.
"Today, I read a lot of blog poets," he says. He writes his own sporadic blog, Resisting Poetry, via dial-up connection from a tidy Eastside home shared with artist Sue Ashline, his wife of 17 years.  
The internet, for McCrary, is poetry's brave new world, as evinced in a fragment of a poem from "All That":
The sixties?
Not me man, no way.
What was that used to be.
Today things are "stored".
That seems to work.
It is easy to "search".
Memory chips.
Ah...the future claimed...
No-fi highlights from the podcast
NOTE: The following interview was culled from audio recordings and email exchanges.
A brief history of Jim McCrary.
McCrary: Born and raised up around Chicago. Went in the army after high school — two years in France. Woke me up. It's a long way from suburban Chicago to Verdun, France. Not only Europe, but the war itself. I was born in the middle of it. ...There was a lot of political stuff going on in Chicago back then, 1963-65, a big drag. After I returned from service, somebody came along and said, "You ought to go to Lawrence, its pretty cool. They'd dig you there." So I moved. I was 24, 25 years old. Dead of winter, colder than sh*t.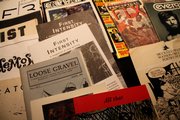 You say you're a poet who doesn't want to promote poetry at all. Why call yourself a poet?
I call my blog Resisting Poetry, and that comes from resisting the urge to write for the sake of writing or writing for other reasons like therapy.  What I mean by promoting is promoting the need for "more poetry" as in teaching "how to write" poetry in K-12 schoolrooms or therapy groups or "poetry in public spaces for a month" or "read a poem a day" or worse "write a poem a day." 
I see no reason the world or my life would be any better if my poetry was better known or more widely published so I am not going to spend a great deal of effort promoting it. I write what I do and that's it. I know that there are only, at most, 100 people that know I write and might read what I write and that is FINE with me!  When I do a public reading it is either because I was asked so why not. Or I simply want to put something out to a select group and see if there is a response...so at Spencer next month.
Your voice is hoarse.
Tobacco, alcohol, drugs and a botched thyroid operation years ago.  Half my vocal cord is frozen.  I can live with it.  I read my poetry out loud only to get folks to take it seriously on the page which is main goal. To me I don't like the term "spoken word arts" for poetry. (Poetry) belongs on the page. I am a printer, I guess, not a singer.  (laughs)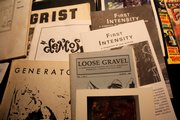 What makes a poet?
Well, I've kept it up for 40 years. That, right there. And if I hadn't been interested in my own work enough to improve it, I would have quit a long time ago. I don't even know if it has something to do with language or not, but it certainly has something to do with "I'm still doing it." I'm comfortable with it and I can be public about it. ...I've probably been published in a hundred magazines. ...But if people get into poetry for money or fame, they're crazy.
How many of those magazines paid for your work?
(laughs) I probably made 50 bucks.
You bend language your own way, and use humor. Brautigan, Bukowski...?
I remember seeing Bukowski. He did a reading here. He had to have a refrigerator full of Pabst onstage, which he partook of. And he came to the [Abingdon] bookstore afterward. For me, [Bukowski was] not so much the work, but the idea you could be that free and be a poet — and be known and respected. Who else was there in those days? I don't even remember who the regular poets were.
Are you a revolutionary?
I am not trying to "break new ground" or be a big experimentalist. Poetry, like painting on canvas, is a craft practiced by those who love the old ways.  I encourage the new people who look for new ways to create anything. Much more important to try something new than study the old, eh?"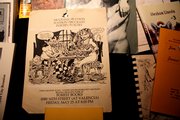 Here's a small poem from your recent book, titled "All That":

It's so hot/Johnny Cash/died
That poem's in a series. It was a hot spell. I was thinking about writing, trying to find a way. So I kind of made a record of the hot spell. The series was numbered 98 through 106 — those were the actual temperatures. And it was during that heat spell that Johnny Cash died. But not because of the heat.
You seem to pick a central idea and spin a lot of poems from it.
That's pretty much how I work. I've tried all different ways to write: getting up in the morning, a bunch of blank books that I took on trips... nothing. It either comes or it doesn't. So something will come, like thinking about the temperature. ...I want my consciousness to be part of what I'm writing; I don't want to leave any of it out. I have an aversion to people who have written about an event and that's all that its about. I don't want to limit myself to just describing what I'm writing about, if that makes sense. When I sit down to write, I'll put everything down.
What do you think of the poetry slam phenomenon?
It was fun. We tried a few here. It was a time when people were interested in busting poetry out of the academic library or some musty hall, getting poetry into the street, and the slam was a part of that. When we first looked around to do something here, we talked to a bunch of places and ended up, I don't remember how, at the Flamingo, which is a strip club. We were telling the owner about poetry slam and he had no idea what we were talking about. But he said, "We're closed on Monday. Go for it."
Turned out it was the perfect venue: it had a liquor license, a great sound system, great lights and a pole on the stage. People came out of the woodwork.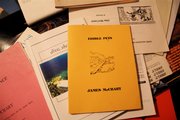 You use a lot of the vernacular in your poems. What is the state of language now?
I have fun with the idea that its just going to be reduced to a series of squeaks in an iPod. Or everybody's going to have a chip in their heads — the sound of whirring and clicking. If we keep reducing it to where everybody's comfortable describing their life experiences in fewer than 140 characters, I don't know. I'm not too worried about it.
Beat-era poet Michael McClure once said that poetry was language in crisis. With dyslexia and an anti-poet mindset — crises of sorts — would that be a fair description of your work: language in crisis?
Crisis in the sense that I struggle horribly with even writing anything.  I think and rethink and ponder and wonder and finally it escapes my head onto the paper...for better or worse. ...The crisis is always there...I carry it around. 
In the end I would rather someone said:  That McCrary wrote a couple good poems. I would not want someone to say:  That McCrary wrote a ton of poems...there were a couple good ones, I guess.
---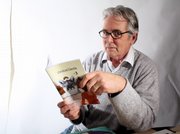 Five by McCrary
PS 57 – Corso vs ANYONE
She might have been the only Guest at the party
but Babs held her own and more if ya ask me even
if the last round went way to long and she was trapped
against the fridge by Frankie Imsohung who stumbled in
from a lunch quickie at the local beach bar
Well who knew when the school would finally
shut down for a long dry summer and the only
person still functioning was in a singular slide to
nowhere fast call him Gregory and call him
sufficiently talented to outlast the gimped up opposition
And all hail anything that outlasted the 1960's
goddess forgive I ever gave a second look to that
dismal decade dumbass dumbness
- from Resisting Poetry, July 2009
More McCrary
105
The point is made
some sort of knowledge gained
nothing for sure lost in the dusk
hot dusk
- from All That, 2008
Remembering The Honest Criminals
Okay
let's talk about
Belle Starr for a moment.

She was ugly as sin
had horrible taste in men
and could not tell north from south.

However ... however
she knew one hell of a lot
about the Savings and Loan
business in
northeast Oklahoma
that's for damn sure!
- from All That, 2008
Untitled
Assuming that nothing falls into place
And no direction is found
And some sort of definition
Does not appear
Just out of the blue
Then lasting impressions do count
- from Being Frida Kahlo, 2007
The Lawrence Conjurer
vol 1*no 1
"Sorry, sweetie, this ain't no newspaper"
-page one -
FLASHFLASHFLASHFLASH
Whichita's last at large
outlaw arrested 5 miles south
west of lawrence & brought
to trial on suspicion of attempt
to squirt-
convicted & sentenced in shoeshine
shop with maximum penalty given due
to seriousness of crime-
convict yelled with joy as
the 12 mustang heads returned to hang frat
pins in their ears
& 350 pound black judge gave down decision
to suck off jury in the crowded courtroom-
the prisoner was returned to nod-
-page two-
UPI-AP-UPI-AP-UPI-DOWN
local bars
Voodoo hut
Purple Pig
 & La Tropicana (reporter swears in signed state-
                      ment to validity of above names)
burn to ground because firemen
refuse to leave their house after
seeing 3500 visiting professors in full
academic drag milling through streets
"what the fuck, we thought it was the
Klan. Know what I mean fellers?" said the chief.
said the mayor "they quit playing checkers &
started taking acid. can't do a thing with em."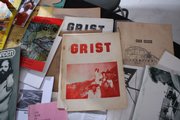 -page three-
VIA AIRMAIL-VIA AIRMAIL-VIA AIRMAIL
new mexican poet arrives to help
900 local indians celebrate founding of
north american church-
speaking between snorts on peace pipe poet
stated "goddamned featherheads have gone nova-puff-
nova-puff-finks-puff-puff-puff."
at press time the celebration continued reaching
its peak when prime minister Ghandi was hung
nude in effigy-"As far as we're concerned she's
fucking up the name indian." said the tribe
president threatening our reporter with a flaming
loin cloth-
-page four-
(this page reserved for sunday funnies)
- from GRIST 6, 1966