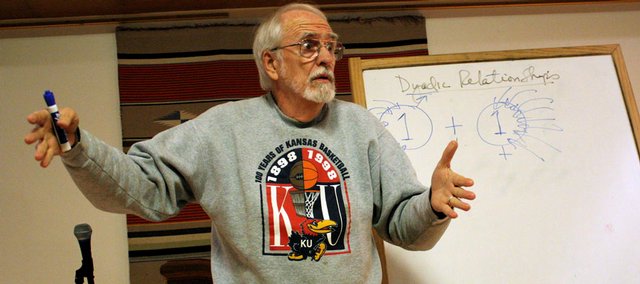 Friday, November 20, 2009
Dennis Dailey is a blunt man. The professor emeritus of social welfare at Kansas University might look the part of mild-mannered academic, but don't be fooled. His frank discussions about human sexuality while he was teaching at KU made him a political punching bag for state legislators — and even Bill O'Reilly — creating a national hullabaloo and earning him the nickname in some quarters as "The Pornographic Professor."
He was accused by politicians and pundits of everything from promoting pedophilia to attending porn parties, among numerous other allegations that weren't supported by evidence, but he was eventually exonerated by the university. Although the controversy surrounding Dailey's Human Sexuality in Everyday Life class has died down since its salacious apex in 2003, Dailey hasn't given up his role as uncompromising educator.
"There's much less attention since I retired from the university in 2005, so those people don't get as much political leverage from it," says Dailey, who still teaches the class that so riled O'Reilly, only now off-campus at the Ecumenical Christian Ministries. "I've had very little difficulties in terms of teaching that same class at ECM. I've taught the human sexuality course there for 10 or 12 years each spring. As I've said before, if I teach that class and nobody is upset, I'm probably screwing up somehow."
Since that now infamous class received the lion's share of media coverage, Dailey's life outside of academia as a clinical sex and marital therapist has garnered far less attention. He continues to operate a private practice twice a week and, as he's done every year for nearly a decade, will this weekend instruct his relationship workshop, Intimacy for Committed Couples. It's work he sees as crucial to combating an epidemic of emotional idiocy.
"Using romance novels from Dillons as your guide to a successful relationship is not exactly your best shot, but a lot of people do," bemoans Dailey, who hopes the workshop will be a bit more in-depth than a Harlequin bodice ripper. "The focus is on helping couples to examine some of the emotional intimacy dimensions of relationships. Since 40 to 50 percent of KU graduates end up in the divorce scrap heap, anything you can do to help students learn some things that might influence that is important."
But the workshop isn't limited to students.
"It's primarily aimed at students, but we've always had people from the community attend," Dailey says. "We've had people who've been in marriages for 30 or 40 years; we've had young people who are just getting into relationships, engaged couples, gay couples, straight couples - whatever. It doesn't make any difference to me."
Intense ministering
Since Dailey was the favorite whipping boy of certain political and religious conservatives, it might seem counterintuitive that such a candid exploration of intimacy would be held at a Christian ministry, ecumenical as it may be.
"The question always comes up as to why ECM sponsors these kinds of workshops," says Lauren Tullis, president of the Sexuality Education Committee at ECM.
"I'm an atheist, so it was hard for me to make that kind of connection at first. That's why ECM pushes the interfaith component of their ministry. The religious component isn't pushed whatsoever," she says. "The important thing about having sexuality education from the ECM is that there's a historical tradition of Christianity kind of shunning sex as a sin before you're married.
"So when you do get married, what do you do?" Tullis asks. "You've had so many sex-negative messages, how do you make that switch on the day you're married? It's OK to have sex even though you're told it's wrong, wrong, wrong up until that point? Even though ECM is Christian by nature, they never push any ideology or history because they want it to be as open to and reach as many people as possible. The ministry component is sharing good information and knowledge of value."
And Dailey will be spreading the good word through some rather intense ministering. "We spend a fair amount of time helping couples to understand what emotional intimacy really means: being open to one another," says Dailey of the workshop exercises. "They do some dialogue work, do some interactive work with me and do some small-group stuff that focuses on gender differences. After Friday's meeting, couples are sent home with some dialogue work. Some do it in half an hour. Some are up until three in the morning. Some people find ways of understanding the work they need to do in these relationships, but there are some relationships that end as a result of this workshop."
"This workshop is famed (for) making or breaking relationships," says Reanna Putnam, co-chair of ECM's sexuality education committee. "If you can survive this workshop, you are on your way to a healthy, happy relationship. It also has been known to put a lot of stress onto relationships that can result in termination. Dennis is very opinionated, but that's part of the appeal."
Relationship ideals
So disabuse yourself of the notion this might be a touchy-feely love-in with Dailey as the sensitive guru. If he thinks it's not going to work out, he'll let you know.
"I have a general inclination to put energy into working on relationships and saving them if possible, but I also don't think terribly unhappy and incompatible people should stay in a marriage simply for the sake of staying in a marriage. It's too toxic, and life's too short," Dailey says.
"When I work with couples who are considering entering a long-term relationship, we examine a variety of issues. For example, one of the things I challenge them to do in those sessions is tell their partner something they've thought about telling them but have not told them. Everybody has one of those to do. Usually they do that with some trepidation, and it can raise issues in a relationship. Then they learn how to negotiate those differences. Everybody goes into relationships with a bunch of untold stuff. People with very low self-esteems, for example, hold back lots of stuff because they're afraid if they share that information people will abandon them. It's very common - if you think you're a pile of crap, you're not going to share with any depth who and what you're about."
This inability to communicate or allow growth in a relationship is, in Dailey's experience, shockingly common.
"They have to allow other people to know who they are. There are a lot of things they can do to facilitate that," he says. "What's fascinating to me in my clinical practice is how often I can be working with people who have been in relationships for 10 to 12 years and, in so many ways, are strangers to each other."
In the end, the goal of the workshop is to find whatever is in the best interest of the individuals in the relationship - even if that means dissolving a relationship. Happiness comes in many forms, after all, be it single or committed or miscellaneous.
"There are a lot of very viable ways to be in the world, and one of the things that bothers me is people who preach that there's only one way to be in the world," Dailey says. "It's ridiculous."
More like this story on Lawrence.com