Tuesday, November 24, 2009
Photo Gallery
Kitty Reese screen printing at Blue Collar Press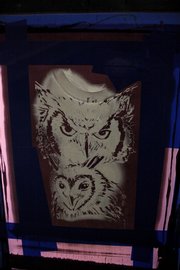 Kitty Reese calls for her fluffy white pet rabbit that's hopping around her in-house sewing studio. Candy-colored fabric sits in piles, with drawings of woodland creatures hung on the walls. It's like some kind of Snow White scenario with Reese as the Disney damsel.
"Sugar...Sugar..."
Sugar pauses, staring at Reese with his big red eyes before hopping frantically out of the room and away from her outstretched arms.
"Damn it."
Well, a Snow White who swears, perhaps.
The designs Reese crafts feel right at home in this askew fairytale-esque world. Her screen-printed shirts, dresses and accessories feature her own animal drawings - like doe-eyed unicorns or anthropomorphic cat girls with swirling black hair.
"I have this 'Holly Hobbie Country Rainbow Brite on crack' aesthetic going on," Reese says.
"There's one animal I'll kind of obsess over and draw it a whole bunch and then I'll use those drawings to create a T-shirt or a fabric pattern," she says.
Dozens of Reese's drawings hang around her sewing room - squirrels, mice, cats, deer and the like, many seemingly urgently rendered on whatever medium was handy and then clipped to a measuring tape that's strung across the wall above her sewing machine.
She recently converted some sketches of owl faces into a sort of owl totem pole and printed them in white on black T-shirt dresses. She applied overlapping screens bleeding over the edge of the collar down to the base of the hemline in a way that makes the front of the dress look like it's opening up to reveal a bird inside the wearer's soul.
She also just finished a hand-sewn, candy apple red dress shotgunned with rabbit prints, This is the direction Reese wants to move in - more sewn pieces as the medium for her prints.
Past Event
Saturday, November 28, 2009, 9 a.m. to 5 p.m.
Lawrence Arts Center, 940 New Hampshire St., Lawrence
All ages / Free
This might seem like an odd combination, but customers ask for her designs by name at Wildman Vintage. Owner Phil Chiles says that's unusual for a local designer.
"From the time she began bringing things in she's been good about the quality," says Chiles, who's been carrying Reese's designs for two years.
"She's got a following," he says. "She keeps people interested in what she does."
After getting her BFA in painting from Kansas University in 2004, Reese did gallery shows but was drawn to the clothing, especially T-shirts.
"I felt like it was for the everyman," Reese says. "I could start to make a little money, and T-shirts are something that anyone could afford rather than a $250 painting."
Before she printed her own patterns, Reese began experimenting with simple single prints at Blue Collar Press, where she now also works. She works on the manual press, which she prefers to the automatic press. Reese arranges each screen individually on the press and hand-applies the ink with a squeegee-like applicator.
"It's like you're building something," she says. "I like the physical aspect of manual printing."
This kind of hands-on aspect of fashion is a big part of Reese's line. She's currently working on sewing faux-fur animal appliqués in the shape of wolves on the backs of zip-up hoodies to sell at the Bizarre Bazaar.
Wildman Vintage was the first store to carry her line after Reese saw a sign on their window for local designers. When the store pushed her to do a fashion show, she was entering foreign territory.
"It hadn't even occurred to me at that point to put it together in that way and then I did it and thoroughly loved it," she says.
Reese has begun thinking long-term about her clothing line. She plans to expand into stores in Kansas City and other college towns in the Midwest — as well as broaden her website's reach — and she hopes to eventually her clothes manufactured.
Chiles says it's this kind of vision and drive that makes her stand out. "She's got more of a vision for what she wants to do," he says.
Reese finally gets Sugar into her arms and he twitches nervously as she pets him.
Gesturing around the room to her bags, T-shirts and dresses, she says now "this is a side thing that I am wanting to be my career."
Snow White, but with a business plan.