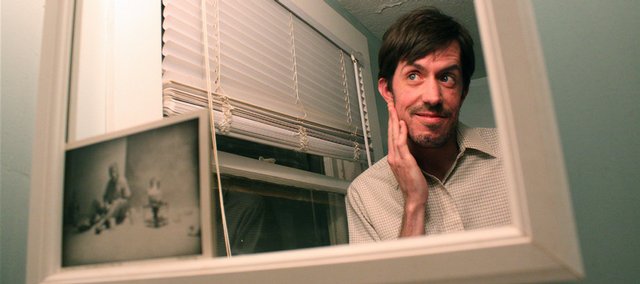 Thursday, November 26, 2009
Past Event
Friday, November 27, 2009, 10 p.m.
Eighth Street Tap Room, 801 N.H., Lawrence
21+ / $3
Three and a half years ago, the Danny Pound Band entered Black Lodge Studios with the goal of making a record in three days.
Three and a half years later, it's finally done.
"It just right from the get-go didn't go very well," says Pound, a 35-year-old Lawrence songwriter who writes in a rootsy style reminiscent of Neil Young and The Rolling Stones.
"We recorded all live and the vibe wasn't there, and the arrangements were bad, and our equipment was broken and failing," he explains. "We were going to just trash the record, but we kept searching because we knew these songs were good."
If any local band could have knocked out a straight-to-tape album, it's the Pound crew. His cohorts Jeremy Sidener (bass), Dave Swenson (guitar and keys) and Ken Pingleton (drums) are consummate musicians who value arrangements above individual glories. For that reason, they saw fit to reinvent their own wheel.
"What we ended up doing was stripping away the stuff that sucked," Pound says. "We'd say, 'Does this song even need drums? Let's take the drums and the bass out and put something else in.' I've never done it that way before, and that's why it took so long.
"I don't consider myself a rocker anymore," he adds. "These songs are not meant to rock. Maybe rock-a-bye baby."
Album Mp3s

Theirs & Ours
For someone who has released only two albums in the last eight years, Pound has a remarkable amount of creative drive. He admits to nearly driving his engineer Steve Squire crazy with all his requests to scrap ideas and start from scratch. Such experimentation is the lifeblood of "Theirs & Ours" - a 13-song album that plays like a home-recorded Paul McCartney LP.
"I like getting up in the morning and plopping a record on the turntable and puttering around the house," Pound says. "People don't really listen to music that way anymore, but hopefully they'll listen to this that way."
Much of Pound's drive to finish "Theirs & Ours" stemmed from his dissatisfaction with the results of his previous album, "Surer Days." Though most listeners would probably consider it a perfectly tuneful collection, Pound felt he could do better.
"A lot of the songs were just so old, and we tried to rearrange them over and over to keep them fresh," he says. "It can be done, but most of the time I just end up making the song worse. It defeats the purpose of the song, generally, and I think that's what happened."
Four of the songs on "Theirs & Ours" take the exact opposite approach: Pound recorded them on a four-track tape machine in his bedroom immediately after he wrote them. He didn't even bother to buy new tapes, instead living with the hiss on the old ones.
"The feeling is there, and that's really all I care about," he says. "It's more like a newspaper article - the next day it's there."
It's a wonderful knife
Whether stripped down or densely layered, Pound's songs are centered on colorful characters: some autobiographical, some fictional. The sleazy character in "San Fernando Valley" is a pornography kingpin in Southern California; the virile young man in "Leg Boy" might just be Pound.
"Initially, I was trying to figure out why I obsess over women's legs," he says. "Then it got kind of Freudian and it's me crawling up my mommy's legs or something. She had a pretty good pair of legs. Mom - I'm sorry."
Pound chuckles when he hears himself sing the lyric, "I feel like Jimmy Stewart on the edge of a knife."
"I have no idea what that means," he says. "I was thinking of the people sitting under the trees in South Park drinking booze out of a paper bag with their buddies. Does that sometimes seem like you've got it made? Or is it misery? I think at the time I was considering a career in homelessness."
Before settling into his current bachelor pad, Pound shared a house with fellow Lawrence troubadour Arthur Dodge. The two are often mentioned in the same breath, both being gifted songwriters who are treasured locally but largely undiscovered nationally. But whereas Dodge cranks out songs by the dozen, Pound is streaky.
"Arthur is way more prolific than I am," he says. "I only write when the juices are flowing. I go for long stretches when my antennae just aren't up and I can't even think about writing. But then I'll get a rush of three or four tunes. I guess I'm doing research more than I'm actually writing."
When Dodge speaks of Pound, it's clear that there's mutual respect in the air.
"There's so many boring voices out there in the music biz, and he's very unique in his lyrics and phrasing," Dodge says. "I think you can tell the (songwriters) that are a true voice. That's hard to fake. Maybe we'd all make more money if we could fake it. I wish I knew the formula. Sign me up."
Dodge also shares Pound's music-first philosophy about his chosen after-hours vocation.
"I think we've both done it long enough that there's no illusion of grandeur," Dodge says. "We're not 22. When you get older it's just like, 'This is what I do. I make records.' There's always that hope that lightning could strike, but you don't really count on it after a certain point."
Man needs a maid
Like Dodge, Pound maintains a laissez-faire attitude about the business side of things, preferring to expend his energy on the creation and execution of his songs.
"I've probably waited for something good to happen for me more than I've put work into it," he says. "I need a nurse or something - a musical publicity nurse."
That's not to say Pound doesn't care whether his songs are heard or not. He urgently wants "Theirs & Ours" to reach people, whether it's a crowd of 100 at the Eighth Street Taproom or a larger audience. He performed the album two weeks ago for an attentive crowd of 40 at the Lawrence Percolator, pausing frequently to tell stories about the songs.
"There's a lot of me in this record - weird obsessions with things, and a lot existential angst," he says. "It's pretty moody, and kind of heavy emotionally. It's not something that you would plop on when you're driving to work and drinking coffee and getting pumped up for your day. It's maybe something you would listen to at night and meditate on a little bit."
The band's shows are becoming rarer as its members tiptoe into adulthood - albeit at different paces.

"We only play when there's a reason to play or when people feel like playing," Pound says. "Dave's got a kid on the way. Jeremy's got a child. Kenny is a child. I'm a child."
Pound is still holding down his longtime day job at the Community Mercantile, which he warmly regards as "the kind of place where you feel like people care about each other."
"Sure, I'd like to retire into obscurity and record some albums on a yacht," he jests. "But for now this is pretty good."
As long as Pound steers clear of the yacht rock, we'll happily wait another three and a half years for the next record.