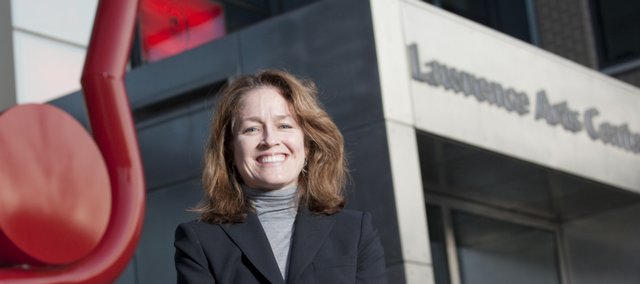 Friday, November 27, 2009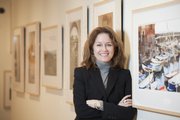 Susan Tate is not a painter.
She's not a sculptor or a ballet dancer or a Shakespearean actress.
And while Tate plays a little piano, she admits she would never want to perform in public.
On Tuesday, however, Tate will be become fully immersed in the world of art when she takes over as the new executive director of the Lawrence Arts Center.
"The arts center is of great personal importance to me," Tate says.
"I see the Lawrence Arts Center as the one big tent in Lawrence. It's a place where everyone should feel welcome. There is something for everyone here, from every part of Lawrence and every age."
Tate resigned last week from her job at Lawrence High School, where she has taught English and humanities since 1989. (Her husband, Brad, is a former longtime principal of the school.)
"There is no other job that would have caused me to consider leaving Lawrence High," she says.
She adds, "I feel humbled by the opportunity to take this job, but I don't feel especially nervous."
Despite the confident attitude, Tate is inheriting a position that has proven uncharacteristically fragile in the last year.
Previous LAC director David Leamon vacated the post in July after only nine months at the center. He replaced founding director Ann Evans, who retired in 2007 after a 33-year reign.
That back-to-back turnover — coupled with a slumping national economy that has proven challenging for arts organizations — makes the nonprofit institution's selection all the more crucial to its continued existence.
"In selecting Susan from a strongly qualified field of finalists, we felt she brought a combination of skills and experience that included proven commitment and development skills with community organizations — including arts-based agencies — an advocacy for the arts as well as a strong personal passion for the arts," says Bill Carswell, LAC board president.
Carswell and his search committee identified a number of key areas the new director is expected to address within her first year:
• Develop significant accomplishments in finely articulating a shared vision, direction and practices.
• Create enabling conditions by securing the financial, political, technological, human and social capital necessary to promote the LAC vision.
• Engage staff and the community and work with ideas and resources to realize high standards for programming in the arts.
• Systematically collect and analyze data to make judgments that guide decisions and actions for continuous improvement.
Wide canvas
While Tate doesn't consider herself an artist ("But I am artistic and extremely creative," she clarifies.), there are few people in Lawrence who have been so intertwined in the city's arts scene.
Tate began her ongoing relationship with the center in 2001 when she became part of the Capital Campaign Steering Committee to move locations from the Carnegie library building at Ninth and Vermont streets to the new structure at 940 N.H.
For the last four years she sat on the board of directors of the Spencer Museum of Art, spending the last two as its president. She also served as a past board president with the Lawrence Public Library and a past board member of Van Go Mobile Arts, where she chaired the capital campaign for its building project.
A native of Wichita, Tate earned an undergraduate degree in education and a master's in English from Kansas University.
"One of the major challenges is explaining what happens in the arts center past the 900 block of New Hampshire," says Tate, who has been a permanent resident of Lawrence since 1986.
"Very few people understand the breadth and the depth of the activities that happen here. One of my missions is to craft a narrative of exactly what is happening, from the preschool classes to everything we offer."
Tate explains the arts center is unique because it embraces the rare combination of a scholarly, educational and artistic mission coupled with social and civic responsibilities.
"It serves as an extremely important anchor for downtown Lawrence and for the heart of our city," she says. "It's not just for the cultural life or social life of the city, but the way we see ourselves. It's the one place that is absolutely fundamental to Lawrence's conception of itself."
Strong leadership
"It will be wonderful now to have a real sense of leadership — to create a sense that the arts center has a vision and that there's a strong person at the helm guiding that vision," says Ric Averill, drama program director at LAC.
Averill has known Tate since she was a board member on his children's theater company, the Seem-To-Be Players.
"I think she'll be able to begin to tell the story of the arts center to the whole community in a meaningful way. As a result of that, we'll see an increase in funding and support," he says.
The 47-year-old Tate plans on starting her first day of work Tuesday with an all-staff morning meeting. She hopes to immediately begin reinforcing the message to the community that LAC's "mission is to nurture art."
"This is a dream job," Tate says.
"There is only one job like this in Lawrence. There is only one job like this anywhere."