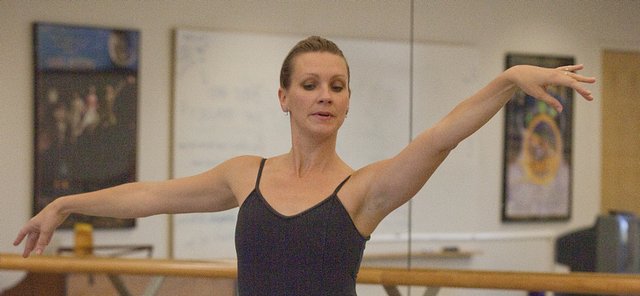 Sunday, November 29, 2009
Past Event
Friday, December 11, 2009, 7:30 p.m.
Lawrence Arts Center, 940 New Hampshire St., Lawrence
Not available / $12 - $17.50
A ballet classic meets Kansas history as "A Kansas Nutcracker" comes to the stage again this year at the Lawrence Arts Center.
"A Kansas Nutcracker," adapted from Pyotr Ilyich Tchaikovsky's ballet, wastes no time setting the scene as 1850s Kansas. The play opens with the characters John Brown, Missouri ruffians and American Indians in a barn party.
"There is a whole history lesson that goes on in all of this and sets the stage for a really wonderful performance. But it still has the magic of 'The Nutcracker,'" says Candi Baker, dance program director for the arts center and a choreographer for the show.
References to Kansas don't end there. The play also features a snake dance, farmyard scenes and encounters with grasshoppers and ravens, all on the Kansas prairie.
The ballet will be set to the original music but was rescored by Jeff Dearinger to be played by a 12-member professional mandolin orchestra.
"A couple of instruments in the music give it a folksy feel and adds flavor," Baker says. That, she says, paired with the set and costumes, makes the production undeniably Kansan.
After being performed for four years, the play went on hiatus in 2006. The Lawrence Arts Center hosted other holiday shows for a couple of years before bringing "A Kansas Nutcracker" back in 2008. During its break, many Lawrence residents asked about the return of the play, Baker says.
"'The Nutcracker' is always a very popular and delightful holiday tradition," she says. "Something like 'A Kansas Nutcracker' never gets old. It's a magical show, really. It's just full of joy."
The idea for the show came from Deborah Bettinger, choreographer and artistic director. She collaborated with playwright Ric Averill to develop a script for the play.
This year's show will feature a new dance scene by a hummingbird, performed by Shannon Pickett. Though she has danced in the traditional version of "The Nutcracker" several times, this will be Pickett's first time performing in "A Kansas Nutcracker." Pickett, a dance teacher, says she's excited to try a new role, but she is even more excited to perform alongside her students.
"Everyone likes to watch kids perform," Picket says. "It's just fun, and it keeps everything lighthearted."
Professional actors, professional dancers from the 940 Dance Company, based at the arts center, and area youth and adult performers collaborated in production of the show. A total of 150 cast members bring "A Kansas Nutcracker" to life. Baker says the guidance from the professionals to the youths is important to the show's success.
"The young dancers and actors see what the professionals are doing," Baker says. "We feel like it brings up a level of their performance. As a result, the whole performance is a high level, even from the youngest youth. It's a great way to build a community feel to the show for the performers and it makes it a very rich experience for the community at large."