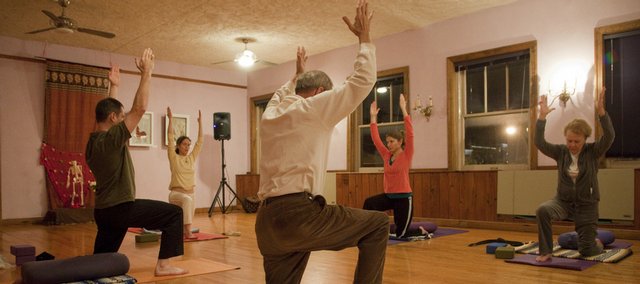 Monday, November 30, 2009
Having eaten the Thanksgiving leftovers, braved the early-morning sales, survived the Kansas-Missouri game and otherwise endured the weekend, it's time to get moving again.
Start decorating. Finish shopping. Resume cleaning. Keep working. Continue job searching.
Anne Wilsey feels your stress. The yoga instructor knows what it's like to round up the kids to eke out a few minutes of holiday shopping, amid all the regular responsibilities that go along with simply existing these days.
To escape from — or, at a minimum, cope with — the mounting responsibilities that tend to pile up as the holidays approach, Wilsey suggests taking a little time to employ a little free therapy.
Go ahead and inhale.
"It really only takes a split second," says Wilsey, who teaches "Self-Care 101" at Be Moved Studio, 2 E. Seventh St. "When you feel yourself moving your body around fast in space — like you're walking quickly, or pivoting fast — in that moment just stand still, feet hips-width apart, and stand tall and allow yourself one deep breath in and one breath out.
"Have a moment of pause and insert some spaciousness. It doesn't take much time, but it does require taking the time to stop and pause, even if it's just for one full breath. That's something anyone can integrate into their day."
Other seasonal tips
Once inflated with a feeling of inner peace — plus a replenished supply of oxygen — folks can improve their comfort through year's end by heeding a few suggestions:
• Mail without fail. Holiday cards need to be in the mail by Dec. 21 to be delivered by Christmas. For parcel post, the deadline is Dec. 16, the U.S. Postal Service says.
• Be healthy. Don't bail on your good habits just because it's the holiday season, the Mayo Clinic advises: Eat a healthy snack before holiday parties, to help curb the impulse to overindulge on sweets and other fattening fare; get plenty of sleep and physical activity.
• Shop smart. Bankrate.com advises people to compile a budget and stick to it by tracking spending for all gifts, travel and other holiday expenses. Making a list for purchases at particular stores both speeds shopping and decreases the likelihood of impulse purchases. Be sure you can pay off all holiday expenses within three months, or four at the most.
• Give wisely. Donating money to a worthy cause can warm your heart while helping those in need, whether it's dropping coins in a Salvation Army kettle, filling a collection basket in church or assisting other established charities. The Better Business Bureau encourages donors to check out charities before giving, using resources such as those available at BBB.org and IRS.gov.
Through it all, don't forget to breathe.
"That's my advice for people, 100 percent across the board," says Wilsey, who's been teaching yoga and other self-help classes in town for five years. "Nobody has an excuse to not do that. You can do it standing in line, and there should be plenty of opportunity to do that."