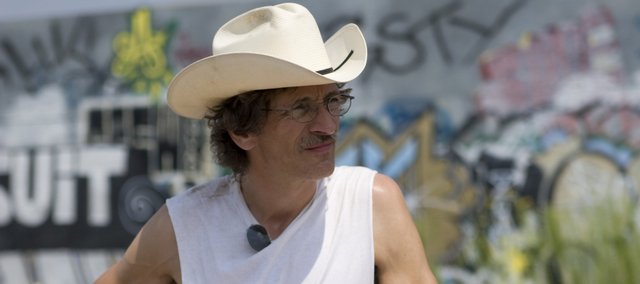 Crop circles.
That is the conclusion most people unfamiliar with the film "Earthwork" jump to when writer-director Chris Ordal begins to describe the plot.
"When I say it's the story of a crop artist, it immediately piques people's interest," Ordal explains. "But they almost always say, 'You mean crop circles, right?'"
Nope.
Instead, "Earthwork" is based on the true story of Lawrence crop artist Stan Herd, who traveled to New York City in the early '90s to create a multi-acre art piece on land owned by Donald Trump.
"It's a phenomenal story. But it's a real story about a real person who risks it all to put his work out on the most public art stage," says Ordal, who shot the film primarily in Lawrence last summer.
"It's the ultimate metaphor for art."
But now the uninformed public will have a chance to officially see what Ordal means.
The feature will enjoy its world premiere at the esteemed Austin Film Festival in Austin, Texas, at 6:30 p.m. Oct. 25. A follow-up screening occurs at 7:15 p.m. Oct. 27.
Ordal, Herd and an entourage of cast and crew will be heading to the Lone Star State to participate. A question and answer session will follow both screenings.
Notably absent will be lead actor John Hawkes — ironically a former longtime resident of Austin — who plays Herd. Hawkes recently joined the cast of the ABC series "Lost" and is currently sequestered in Hawaii through November.
Ordal says, "This truly is a Kansas story. I'm excited to be out there at a prominent festival promoting that story. It really is something that I hope Kansans can celebrate — Lawrence people, especially."
Now in its 16th year, the Austin Film Festival is routinely selected as one of the top fests in America. This year the event will be honoring the work of Ron Howard.
"I've heard a ton of filmmakers say it's their favorite of all the film festivals," Ordal says. "There's not a lot of the glitz and glam that all the other ones have. It's just a big party that truly celebrates story, specifically the screenwriter. And also it celebrates truly independent films."
Instantly hooked
"When we're judging films in competition, the first thing we look for is a strong story and a good script — which 'Earthwork' had," says David Gil, film competition programmer for the festival.
"What made it even stronger was he had great actors in the roles, and the roles were very subtle. It's like a character piece that's telling Stan's story."
Gil admits he'd never heard of Herd prior to seeing the picture, though a few co-workers knew of the crop artist's work.
"I watched the screener at home, then immediately after that I was Googling Stan Herd and looking at all his artwork. Sometimes that's the point of these movies: to get people interested in these subjects," Gil says.
Ordal can relate.
The 27-year-old filmmaker first met Herd through mutual friends in 2003. It wasn't until a few years later that he learned of the artist's adventures in New York.
"(A producer friend) casually mentioned, 'Hey, have Stan tell you that story of when he did an earthwork on Donald Trump's land in New York City with a bunch of homeless people?' I immediately knew right then I wanted to make that into a movie — which sounds dumb. Then I started bothering Stan for six months until I found the actual structure of the acts and the true story," Ordal recalls.
Reaching everybody
Ordal and his Lawrence-based company, Hometown Collaborations, shot "Earthwork" on a budget of more than $1 million. Naturally, he hopes to get some of that back through a distribution deal that could lead to a theatrical release for the project.
"The market is so hard right now that I don't know what's going to happen," says the 2005 Kansas University film graduate. "We don't have a lot of elements that 'sell' a film. We chose to tell a smaller story and tell it with actors that we wanted to play the roles. And we chose to do it on the biggest scale we could."
Although there is no concrete date, Ordal promises he will definitely stage a Lawrence premiere. Interested viewers can check for updates on the film's new Web site, www.earthworkmovie.com, which launches today.
The filmmaker is anticipating a large Kansas contingent in Texas, but he feels the movie has a universal appeal regardless of the audience's roots.
"It should reach everybody," he says. "But I think people who live and work in the arts will appreciate it even more because it really does accurately portray how difficult the profession is. The artistic world can be a major grind. It's always about leading up to 'that one big thing,' but really that's just getting further away from what art is truly about."