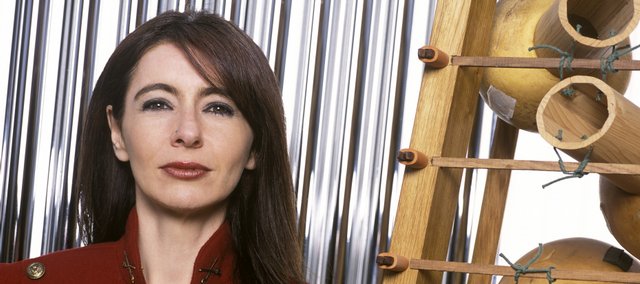 Past Event
Friday, October 9, 2009, 7:30 p.m.
Lied Center, 1600 Stewart Drive, KU campus, Lawrence
All ages / $15 - $40
During a rehearsal last week with the Lexington Philharmonic in Kentucky, Evelyn Glennie invited a group of hearing-impaired children on the stage with her.
The Scottish percussionist escorted them from one spot to another as the 60-plus members ran through material for their joint performance.
"We really want to inspire them by placing them in different parts of the platform so they can see, hear, feel, smell and open up their senses to what it's like to be right next to the brass section or the woodwinds," Glennie says. "What an amazing experience."
It's a concept with which Glennie is intimately familiar.
She has been profoundly deaf since age 12.
"We have this perception that if you're deaf you can't hear. 'Music is about sound, so the two don't go together. Like if you're blind you can't look at a painting.' As long as the body is able to perceive sound through vibration, then it can hear. In a way, the body is like a huge ear," she says.
As detailed in her autobiography, "Good Vibrations," Glennie spent much of her youth refining her knack for detecting sounds. With the help of her school band teacher, she learned how to distinguish the rough pitch of notes on timpani by associating where she felt the vibration on her body. She claims to feel lower tones in her legs and feet (which is why she often performs barefoot) and higher ones on her chest, neck and face.
It's a revelation to see Glennie perform. Not simply because of her rhythmic mastery — a flurry of limbs aimed at all manner of percussive items — but also her abilities on more traditionally melodic instruments such as marimba and xylophone. The fact that she does it in perfect symmetry with other musicians only deepens the impact of accepting her hearing constraints
(In fact, when conducting this interview, a Lexington Philharmonic staffer was asked the question by phone. She would then repeat the question to Glennie, who read her lips. Then Glennie would deliver her answer over the phone to this reporter.)
"Her passion for the music and attention to detail — you can't help but be there in that moment and experience things in a completely different way," says Kelly Whelan, general manager of the Lexington Philharmonic. "Personally, she's inspired me to think of things differently."
Solo pioneer
Glennie is no novelty act, however. She is, quite frankly, the most well-known and influential percussionist in the world.
Her bio claims she is the "first person in musical history to create and sustain a full-time career as a solo percussionist."
"To literally earn your bread and butter by giving recitals and concerto performances had never happened before," says the 44-year-old Glennie, who gained her first Grammy Award in 1989.
"Obviously, there are more people doing it now. Before, you had a few people giving solo concerts, but it may have been a handful of concerts per season. They may have had to teach or play in orchestras or do other types of work. There is a distinct difference there."
When Glennie was coming to prominence in the early 1980s, the concept of a solo percussionist itself was unprecedented. As such, there wasn't exactly a warehouse of compositions available to perform.
"I had to spend a lot of time and energy commissioning pieces, then waiting for those pieces to be written. They don't happen overnight," she recalls.
Since then, Glennie has commissioned 160 new works for solo percussion from many eminent composers in the world of music, film and television.
At her appearance in Lawrence with the Orquestra de São Paulo, Glennie will render "Veni, Veni, Emmanuel."
"It was written for me by a fellow Scot, James MacMillan, back in 1992," she explains. "It's really a tour de force as far as the orchestra and percussionist are concerned. Every single member of the orchestra is used to the absolute extreme."
While Glennie has 25 solo recordings under her wing, she has also teamed with an astonishing array of artists. These include Bjork, Bobby McFerrin, Sting, the Mormon Tabernacle Choir and Béla Fleck (for which she earned another Grammy in 2002).
She says, "I've been very fortunate to collaborate with a lot of musicians I greatly admire. But there are obviously so many I'd love to share a platform with. One is Kate Bush. Another is Annie Lennox. Eminem. There's a lot of people out there from all walks of life — not just musicians, but visual artists or storytellers or poets."
Sound collection
Because she is constantly on the road (averaging 100 concerts a year), Glennie has accumulated a vast number of percussion instruments. At last count, it's nearing 2,000 pieces.
A 60-inch gong drum is among her latest finds.
"It's basically like a huge tam-tam, and it has amazing resonance. I'm also continually making instruments, so one is a two-octave instrument made of PVC piping played with big paddle mallets. I'm usually asked to stop finding things or buying things. It gets out of hand. I'm almost like a kid when it comes to that," she says.
What's been the most difficult to master?
"I'm trying to improve on all of them," Glennie says. "I don't think, really, you can just pick one and say you mastered it. As a multi-percussion player, where I'm dealing with all sorts of drums and mallet instruments and timpani, there's always physical and mental challenges. Those will last for the rest of my life. That's the fun of being a percussion player."